Hubungan antara Tingkat Asupan Vitamin A, Zinc, dan Polyunsaturated Fatty Acid (PUFA) dengan Kejadian Diare Balita
---
---
Keywords:
Balita, Diare, Polyunsaturated Fatty Acid, Vitamin A, Zinc
---
Abstract
Pemberian suplementasi zat gizi mikro (vitamin A, zinc dan PUFA) dapat mempercepat proses penyembuhan diare pada anak, akan tetapi belum diketahui apakah defisiensi asupan zat gizi mikro tersebut dapat meningkatkan resiko kejadian diare pada anak. Zat gizi mikro tersebut melindungi dari infeksi yang menyebabkan diare. Tujuan dari penelitian ini yaitu mengetahui hubungan tingkat asupan Vitamin A, Zinc, dan PUFA terhadap kejadian diare balita usia 6-24 bulan. Desain penelitian yaitu survei analitik dengan rancangan cross sectional. Populasi balita usia 6-24 bulan dengan jumlah sampel 100 balita. Pengumpulan data menggunakan kuesioner diare dan wawancara recall 1 x 24 jam sebanyak 3 kali. Analisis statistik menggunakan SPSS 16.0 for Windows dengan uji Korelasi Chi Square dan Gamma Test. Hasil penelitian menunjukkan terdapat hubungan signifikan antara kejadian diare dengan tingkat asupan Vitamin A (p=0,000), Zinc (p=0,012), PUFA (0,007). Kesimpulan yaitu terdapat hubungan antara tingkat asupan Vitamin A, Zinc, PUFA terhadap kejadian diare pada balita usia 6-24 bulan.
Kata kunci: Balita, Diare, Polyunsaturated Fatty Acid, Vitamin A, Zinc
Abstract
Micronutrient Supplementation (Vitamin A, Zinc, And PUFA) can accelerate the healing process of diarrhea in children, but until recently whether deficiencies in micronutrient (vitamin A, zinc, and PUFA) intake can increase the risk of diarrhea in children has not been known. These micronutrients protect against infections that cause diarrhea. The purpose of this study was to determine the relation between Vitamin A, Zinc, and PUFA intake levels and the diarrhea incidence in infants aged 6-24 months. This research was an analytical survey with a cross-sectional design. The population was 6-24 months infants with a sample of 100 infants. Data collection was using diarrhea questionnaire and recall interviews 1 x 24 hours for three times. Statistical analysis was using SPSS 16.0 for Windows with Chi-Square Correlation and Gamma Test. The results showed a significant relationship between diarrhea and the level of Vitamin A intake (p = 0.000), Zinc (p = 0.012), PUFA (0.007). In short, there is a relationship between the level of Vitamin A, Zinc, and PUFA intake on the incidence of diarrhea among infants aged 6-24 months.
Keywords: infants, diarrhea, Polyunsaturated Fatty Acid, Vitamin A, Zinc.
 
---
References
Lanham NSA, Macdonald IA, Roche HM, Kristandy LR. Metabolisme Zat Gizi. (Penyunting Kristandyo LR, Kartini S, Rahmah Q, Iskandar MT, Winata H, Yudha EK). Edisi ke 2. Jakarta: EGC; 2012. 124-125.
Arifianto. Orang tua Cermat, Anak Sehat. Jakarta: Gagas Media; 2012. 35.
UNICEF. Child Mortality Estimated Global and Regional Child Death By Cause. New York. USA; 2015. http://data.unicef.org. [22 Juli 2017].
Kementerian Kesehatan Republik Indonesia. 2013. Riset Kesehatan Dasar 2013. Jakarta: Badan Peneli-tian dan Pengembangan Kesehatan Kementrian Kesehatan Republik Indonesia.
Data dan Informasi Profil Kesehatan Indonesia 2016. Jakarta: Kemen-terian Kesehatan Republik Indo-nesia; 2017.
Dinas Kesehatan Kabupaten Jember. Laporan Bulanan Program P2 Diare. Jember: Pengelola Program P2 Diare Puskesmas Sumbersari; 2016.
Pratiwi YS. Kekurangan Vitamin A (KVA) dan Infeksi. Dalam Jurnal The Indonesian Journal of Health Science. 2013. 3 (2): 207-210.
Tjekyan RMS. Pengaruh Suple-mentasi Vitamin A Terhadap Lama Diare pada Anak Usia 14-51 Bulan yang Berobat di Puskesmas Suka-rami Palembang. Jurnal Kedokteran dan Kesehatan. 2015; 2 (2): 117-123.
Grober U. Mikro-nutrien. Jakarta: EGC; 2012. 55.
Dwipoerwantoro DG. Update Ma-nagement of Infectious Diseaded and Gastrointestinal Disorders. (Penyunting Hadinegoro SR, Kadim M, Idris NA, Ambarsari CG). Jakarta: Departemen Ilmu Kesehatan Anak FKUI-RSCM; 2012. 52-55.
Ulfah M, Rustina Y, Wanda D. Zinc Efektif Mengatasi Diare Akut Balita. Jurnal Keperawatan Indonesia. 2012; 15 (2): 137-142.
Sandjaja A. Kamus Gizi Pelengkap Kesehatan Keluarga. Jakarta: Kom-pas; 2010. 101.
Muhammad HFL. Imunologi Gizi. Yogyakarta: Gadjah Mada Univer-sity Press; 2017. 60.
Molfino A, Amabile MI, Monti M, Muscaritoli M. Omega-3 Polyun-saturated Fatty Acids in Critical Illness: Anti-Inflammatory, Pro-resolving, or Both? Ocidative Me-dicine and Cellular Longevity. 2017. DOI: https://doi.org/10.1155/2017/5987082. [ 25 November 2017].
Lapillonne A, Pastor N, Zhuang W, Scalabrin DMF. Infats Fed Formula with Added Long Chain Polyun-saturated Fatty Acid Have Reduce ncidence of Respiratory illnesess and Diarrhea During the First Year of Live. BMC Pediatrics. 2014; 14 (168): 1-8.
Notoadmodjo S. Metodologi Pene-litian Kesehatan. Jakarta: Rineka Cipta; 2012. 111.
Sastroasmoro., Ismael. Dasar-dasar Metodologi Penelitian Klinis. Jakarta: Sagung Seto;2014: 125.
Gibson, R.S. Principles of Nutri-tional Assessment. Second Edition. New York: Oxford University Press Ins; 2005: 45.
WHO. Diarrhoeal disease; 2009. diunduh dari http://www.who.int/ mediacentre/factsheets/fs330/en/index.html.
Fahmida U dan Dillon DHS. Nutri-tional Assessment. Second Edition. Jakarta: SEAMEO RECFON Uni-versity of Indonesia; 2011. 35.
WHO dan FAO. Interm Summary of Conclusons and Dietary Recom-mendatons on Total Fat and Fatty Acid; 2008. http://www.who.int/ entity/nutrition/topics/FFA_ summary_rec_conclusion.pdf. [25 November 2017].
Asfianti F, Nasir HM, Husin S, Theodorus. Pengaruh Suplementasi Seng dan Vitamin A Terhadap Keja-dian ISPA dan Diare Pada Anak. Jurnal Sari Pediatri. 2013. 15 (2): 93-98.
Adriani M dan Wirjatmadi B. Gizi Kesehatan Balita Peranan Mikro Zinc Pada Pertumbuhan Balita. Jakarta: Kencana Prenada Media Group; 2014. 65.
Edem DO. Vitamin A: A Review. Asian Journal of Clinical Nutrition. 2009. 1 (1): 65-82.
Grotto I, Mimouni M, Gdalevich M, Mimouni D. Vitamin A Supple-mentatiton and Childhood Morbidity from Diarrhea and Respiratory Infec-tions: A Meta-Analysis. Journal Pediatr. 2003. 142: 297-304.
Almatsier S. Prinsip Dasar Ilmu Gizi. Jakarta: PT Gramedia Pustaka Utama; 2009. 25.
Azrimaidaliza. Vitamin A, Imunitas, dan Kaitannya dengan Penyakit Infeksi. Jurnal Kesehatan Masya-rakat. 2007. 1 (2): 90-96.
Herman S. Review on the Problem of Zinc Deficiency, Program Preven-tion and ITS Prospect. Jurnal Media Penelitian dan Pengembangan Kese-hatan. 2009. 19: 75-83.
Lukacik M, Thomas, Aranda. A Meta-Analysis of The Effects of Oral Zinc in The Treatment of Acute And Persistent Diarrhea. Jurnal Pedia-trics. 2008. 121 (2): 326-326.
Kurniawati F. Pengaruh Suple-mentasi Seng dan Probiotik terhadap Durasi Diare Akut Cair Anak. [Tesis]. Semarang: Universitas Diponegoro; 2010.
Marlia DL, Pramita D, Advani N. Defisiensi Zinc Sebagai Salah Satu Faktor Risiko Diare Akut Menjadi Diare Melanjut. Jurnal Sari Pediarti. 2015; 15 (5): 299-306.
Arnisam T. Salfiyadi, Lura LS. Hubungan Asupan Mineral Zinc (seng) dan Vitamin A dengan Keja-dian Diare pada Balita Kecamatan Seulimeum. Idea Nursing Journal. 2013 4 (3): 66-73.
Hardinsyah., Supariasa IDN, Rez-kina E. Ilmu Gizi: Teori & Aplikasi. Jakarta: EGC; 2016. 20-21.
Ariani AP. Diare Pencegahan dan Pengobatannya. Yogyakarta: Nuha Medika; 2016. 15.
Ryota H, Hisayuki M, Soichiro M. Effect of Dietary Fat on Intestinal Inflammatory Diseases. Journal of Gastroenterology and Hepatology. 2013. 28 (4): 33-36.
Nieto N, Mesa MD, Pedrosa JML, Torres MI, Rios A, Suarez MD. Contribution of Polyunsaturated Fatty Acid to Intestinal Repair in Protein-Energi Malnutrition. Jurnal Digestive Diseases and Sciences. 2007; 52 (6): 1485-1496.
---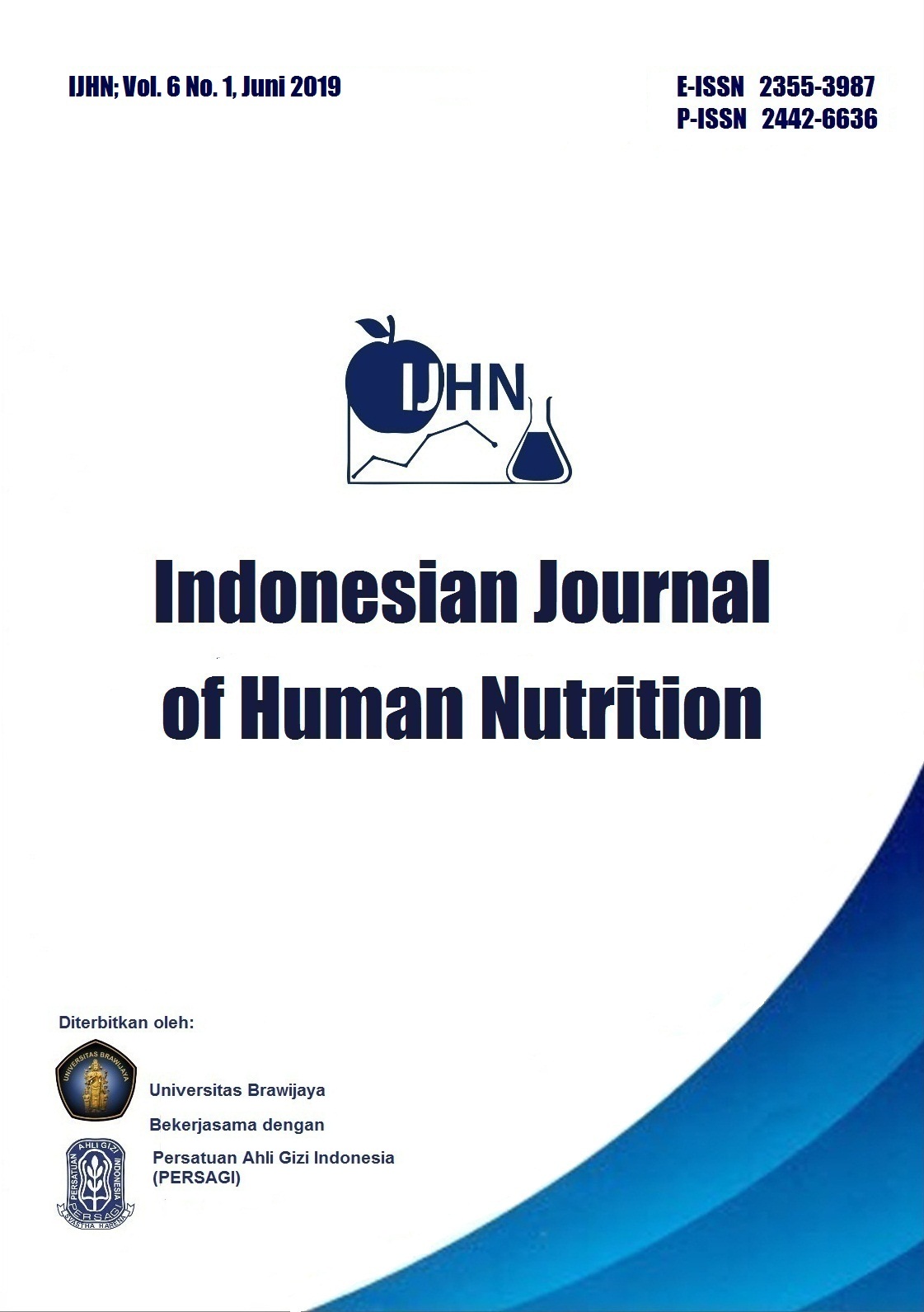 ---
Downloads
---
How to Cite
1.
Restuti ANS, Fitri YA. Hubungan antara Tingkat Asupan Vitamin A, Zinc, dan Polyunsaturated Fatty Acid (PUFA) dengan Kejadian Diare Balita. IJHN [Internet]. 2019 Jun. 30 [cited 2023 Dec. 6];6(1):32-40. Available from: https://ijhn.ub.ac.id/index.php/ijhn/article/view/308
---
License
This work is licensed under a
Creative Commons Attribution-NonCommercial 4.0 International License
---