Ekstrak Etanol Ubi Jalar Ungu (Ipomea batatas L.) Menurunkan Kadar MDA Plasma Tikus Model Menopause
---
---
Keywords:
antosianin, malondialdehid, menopause, stres oksidatif, ubi jalar ungu
---
Abstract
Pemberian antioksidan merupakan salah satu strategi dalam manajemen menopause, karena diketahui bahwa stres oksidatif berkontribusi pada patogenesis penyakit yang terkait dengan menopause. Ubi jalar ungu diketahui memiliki aktivitas antioksidan karena kandungan flavonoidnya terutama antosianin. Tujuan dari penelitian ini adalah untuk mengevaluasi aktivitas antioksidan ubi jalar ungu kultivar Bali pada hewan model menopause, yang didahului dengan pengukuran kandungan flavonoid dan antosianin total, serta kapasitas antioksidan. Penelitian dengan rancangan post-test only control group design  ini,  menggunakan 28  ekor tikus Wistar betina yang diovariektomi bilateral. Hewan coba dibagi secara acak menjadi kelompok kontrol (P0), dan kelompok perlakuan (P1, P2, dan P3). Kelompok P1, P2, dan P3 diberi ekstrak etanol ubi jalar ungu (20mg/ml) per oral 7 hari setelah ovariektomi dengan dosis 1 ml, 2 ml, dan 4 ml/hari,  sedangkan P0 diberikan saline 0,9% 1 ml/hari selama 30 hari. Sampel darah diambil untuk pengukuran MDA plasma dengan menggunakan metode reaksi asam tiobarbiturat. Penelitian ini menemukan kadar total flavonoid ekstrak ubi jalar ungu sebesar 676.9 mg/100g, kadar antosianin 56.78 mg/100g, dan kapasitas antioksidan 2516.82 mg/L GAEAC. Hasil analisis data menemukan terjadi penurunan kadar MDA plasma pada P1 (2,431±0,087 mol/L), P2 (2,174±0,096 mol/L), dan P3 (1,886±0,109 mol/L) dibandingkan dengan P0 (2,795± 0,063 mol/L) (p = 0,000). Kesimpulannya, ekstrak etanol ubi jalar ungu dapat menurunkan kadar MDA plasma tikus model menopause
---
---
References
Brady CW. Liver disease in menopause. World journal of gastroenterology. 2015;21(25):7613-7620.
Sanchez-Rodriguez MA, Castrejon-Delgado L, Zacarias-Flores M, Arronte-Rosales A, Mendoza-Nunez VM. Quality of life among post-menopausal women due to oxidative stress boosted by dysthymia and anxiety. BMC women's health. 2017;17(1):1-9.
Doshi SB, Agarwal A. The role of oxidative stress in menopause. Journal of mid-life health. 2013;4(3):140-146.
Bonaccorsi G, Piva I, Greco P, Cervellati C. Oxidative stress as a possible pathogenic cofactor of post-menopausal osteoporosis: Existing evidence in support of the axis oestrogen deficiency-redox imbalance-bone loss. The Indian journal of medical research. 2018;147(4):341-351.
Tripathy SK, Acharya, V., Nayak, S. R. & Mishra. Oxidative stress in post menopausal women with cardiovascular risk factors. International Journal of Clinical Biochemistry and Research. 2016;3(1):67-71.
Paramita NPC, Sugiritama IW, Linawati NM, Ratnayanti IGAD, Wahyuniari IAI, Arijana IGKN, et al. Ekstrak Etanol Ubi Jalar Ungu (Ipomea Batatas L.) Menurunkan Degenerasi Lemak Jaringan Hati Tikus yang diovariektomi E-Jurnal Medika Udayana. 2019;8(1):33-39.
Abshirini M, Siassi F, Koohdani F, Qorbani M, Khosravi S, Hedayati M, et al. Dietary total antioxidant capacity is inversely related to menopausal symptoms: a cross-sectional study among Iranian postmenopausal women. Nutrition. 2018;55-56:161-167.
Myasoedova VA, Kirichenko TV, Melnichenko AA, Orekhova VA, Ravani A, Poggio P, et al. Anti-Atherosclerotic Effects of a Phytoestrogen-Rich Herbal Preparation in Postmenopausal Women. International journal of molecular sciences. 2016;17(8):1-14.
Davinelli S, Scapagnini G, Marzatico F, Nobile V, Ferrara N, Corbi G. Influence of equol and resveratrol supplementation on health-related quality of life in menopausal women: A randomized, placebo-controlled study. Maturitas. 2017;96:77-83.
Sathyapalan T, Aye M, Rigby AS, Thatcher NJ, Dargham SR, Kilpatrick ES, et al. Soy isoflavones improve cardiovascular disease risk markers in women during the early menopause. Nutrition, metabolism, and cardiovascular diseases : NMCD. 2018;28(7):691-697.
Ke JY, Kliewer KL, Hamad EM, Cole RM, Powell KA, Andridge RR, et al. The flavonoid, naringenin, decreases adipose tissue mass and attenuates ovariectomy-associated metabolic disturbances in mice. Nutrition & metabolism. 2015;12(1):1-10.
Sugiritama IW, Adiputra IN. Potensi Antosianin Dalam Manajemen Menopause. Jurnal Kesehatan Andalas. 2019;8(1):159-166.
Horie K, Nanashima N, Maeda H, Tomisawa T, Oey I. Blackcurrant (Ribes nigrum L.) Extract Exerts Potential Vasculoprotective Effects in Ovariectomized Rats, Including Prevention of Elastin Degradation and Pathological Vascular Remodeling. Nutrients. 2021;13(2):1-13.
Nanashima N, Horie K, Yamanouchi K, Tomisawa T, Kitajima M, Oey I, et al. Blackcurrant (Ribes nigrum) Extract Prevents Dyslipidemia and Hepatic Steatosis in Ovariectomized Rats. Nutrients. 2020;12(5):1-10.
Varadinova MG, Docheva-Drenska DI, Boyadjieva NI. Effects of anthocyanins on learning and memory of ovariectomized rats. Menopause. 2009;16(2):345-349.
Zhang PW, Chen FX, Li D, Ling WH, Guo HH. A CONSORT-compliant, randomized, double-blind, placebo-controlled pilot trial of purified anthocyanin in patients with nonalcoholic fatty liver disease. Medicine. 2015;94(20):758-768.
Sugiritama IW, Wahyuniari IAI, Ratnayanti IGAD, Linawati NM, Wiryawan IGNS, Komalasari NLGY, et al. The effect of purple sweet potato (Ipomea batatas L) ethanol extract on Estrogen Receptor Alpha (ERα) and SOD mRNA expression in the menopause-liver animal model. Bali Medical Journal. 2020;9(3):538-541.
Adnyana IMO, Sudewi R, Samatra P, Suprapta S. Balinese Cultivar of Purple Sweet Potato Improved Neurological Score and BDNF and Reduced Caspase-Independent Apoptosis among Wistar Rats with Ischemic Stroke. Open access Macedonian journal of medical sciences. 2019;7(1):38-44.
Sutirtayasa IWP, Jawi IM. Ethanol Extract of Purple Sweet Potato Tubers (Ipomoea batatas L) Decreases Blood Glucose and Increase Total Antioxidant Level in Rats with High Glucose Intake. Journal of US-China Medical Science. 2013;10(1):52–56.
Jawi I, Budiasa K. Ekstrak air umbi ubijalar ungu menurunkan total kolesterol serta meningkatkan total antioksidan darah kelinci. Jurnal Veteriner. 2011;12(2) : 120-125.
Jawi IMaS, I.W.P. Ekstrak Air Ubi Jalar Ungu Menurunkan Tekanan Darah Tikus Putih Hipertensi Yang Diinduksi NaCl. Medicina. 2012;43:72-76.
Yuwono J, Sugiritama IW, Mayun GN, Juli Sumadi W. Efek pemberian ekstrak ethanol ubi jalar ungu (Ipomoea batatas L) terhadap ketebalan dan diferensiasi sel epitel vagina tikus betina yang mengalami ovariektomi E-Jurnal Medika Udayana. 2018;7(5):203-210.
Diaz Brinton R. Minireview: translational animal models of human menopause: challenges and emerging opportunities. Endocrinology. 2012;153(8):3571 -3578.
Rodrigues MF, Stotzer US, Domingos MM, Deminice R, Shiguemoto GE, Tomaz LM, et al. Effects of ovariectomy and resistance training on oxidative stress markers in the rat liver. Clinics. 2013;68(9):1247-1254.
Hao F, Gu Y, Tan X, Deng Y, Wu ZT, Xu MJ, et al. Estrogen Replacement Reduces Oxidative Stress in the Rostral Ventrolateral Medulla of Ovariectomized Rats. Oxidative medicine and cellular longevity. 2016;2016: 1-9
Rahmawati IM, Soetjipto, Adi AC, Aulanni'am. Malonaldehyde Level of Administration Ethanol Extract of Purple Sweet Potato Var. Ayamurasaki in Doca-Salt Hypertensive Rats. 2018. 2018;5(1):6-9.
Ingle DJ, and Griffith, J. Q. Surgery of the Rat. In: E. J. Farris and J. Q. Griffith (eds.), The Rat in Laboratory Investi gation, . 2 ed. New York: Hafner Pub. Co., Inc; 1962. 18 p.
Ohkawa H, Ohishi N, Yagi K. Assay for lipid peroxides in animal tissues by thiobarbituric acid reaction. Anal Biochem. 1979;95(2):351-358.
Ahmad AR, Juwita., Ratulangi SAD, Malik.A. Penetapan Kadar Fenolik dan Flavonoid Total Ekstrak Metanol Buah dan Daun Patikala (Etlingera elatior (Jack) R.M.SM. Pharmaceutical Sciences and Research. 2015;2(1):1-10.
Jie L, Xiao-ding L, Yun Z, Zheng-dong Z, Zhi-ya Q, Meng L, et al. Identification and thermal stability of purple-fleshed sweet potato anthocyanins in aqueous solutions with various pH values and fruit juices. Food Chemistry. 2013;36(3):1429-1434.
Rumapea DK, Miwada INS, Lindawati SA. Dampak Fortifikasi Ubi Ungu Pada Proses Fermentasi Terhadap Sifat-Sifat Antioksidan Selama Penyimpanan. Peternakan Tropika. 2016;4(1):7-12.
Andarwulan N, Batari R, Sandrasari DA, Bolling B, Wijaya H. Flavonoid content and antioxidant activity of vegetables from Indonesia. Food Chem. 2010;121(4):1231-1235.
Husna NE, Novita M, Rohaya S. Anthocyanins Content and Antioxidant Activity of Fresh Purple Fleshed Sweet Potato and Selected Products. Agritech. 2013;33( 3):296-302.
Panche AN, Diwan AD, Chandra SR. Flavonoids: an overview. Journal of nutritional science. 2016;1-15
Permatananda PANK, Aryastuti AASA, Cahyawati PN, Udiyani DPC, Wijaya D, Pandit IGS, et al. Phytochemical and Antioxidant Capacity Test on Turmeric Extract (Curcuma Longa) Traditionally Processed in Bali. Jurnal Bali Membangun Bali. 2020;1(2):135-142.
Adiari NWL, Yogeswara IBA, PutraI MWA. Pengembangan pangan fungsional berbasis tepung okara dan tepung beras hitam (Oryza sativa L. indica) sebagai makanan selingan bagi remaja obesitas. Jurnal Gizi Indonesia. 2017;6(1):51-7.
Dumaria CH, Wiraguna AAGP, Pangkahila W. Krim Ekstrak Buah Merah (Pandanus Conoideus) 10 % Sama Efektifnya Dengan Krim HIdrokuinon 4% Dalam Mencegah Peningkatan Jumlah Melanin Kulit Marmut (Cavia Porcellus) Yang Dipapar Sinar Ulatraviolet B Jurnal Biomedik : JBM. 2018;10(2):85-91.
Puspaningrum DHP, Sari NKY. Pengaruh Pengeringan Dan Rasio Penyeduhan Terhadap Sifat Fisik Dan Kimia Teh Cascara Kopi Arabika (Coffe arabika L.) Pro Food (Jurnal Ilmu dan Teknologi Pangan) 2020;6(2):710-718.
Cui X, Gong J, Han H, He L, Teng Y, Tetley T, et al. Relationship between free and total malondialdehyde, a well-established marker of oxidative stress, in various types of human biospecimens. Journal of thoracic disease. 2018;10(5):3088-3097.
Effendy NM, Shuid AN. Time and dose-dependent effects of Labisia pumila on bone oxidative status of postmenopausal osteoporosis rat model. Nutrients. 2014;6(8):3288-3302.
Arslan A, Orkun S, Aydin G, Keles I, Tosun A, Arslan M, et al. Effects of ovariectomy and ascorbic acid supplement on oxidative stress parameters and bone mineral density in rats. The Libyan journal of medicine. 2011;6(1): 1-9
Tang Z, Wang Y, Zhu X, Ni X, Lu J. Exercise Increases Cystathionine-gamma-lyase Expression and Decreases the Status of Oxidative Stress in Myocardium of Ovariectomized Rats. International heart journal. 2016;57(1):96-103.
Ziomkiewicz A, Sancilio A, Galbarczyk A, Klimek M, Jasienska G, Bribiescas RG. Evidence for the Cost of Reproduction in Humans: High Lifetime Reproductive Effort Is Associated with Greater Oxidative Stress in Post-Menopausal Women. PLoS One. 2016;11(1): 1-14
Taleb-Belkadi O, Chaib H, Zemour L, Fatah A, Chafi B, Mekki K. Lipid profile, inflammation, and oxidative status in peri- and postmenopausal women. Gynecological endocrinology : the official journal of the International Society of Gynecological Endocrinology. 2016;32(12):982-985.
Juan YS, Chuang SM, Lee YL, Long CY, Wu TH, Chang WC, et al. Green tea catechins decrease oxidative stress in surgical menopause-induced overactive bladder in a rat model. BJU international. 2012;110(6 ):236-244.
Hu Y, Deng L, Chen J, Zhou S, Liu S, Fu Y, et al. An analytical pipeline to compare and characterise the anthocyanin antioxidant activities of purple sweet potato cultivars. Food Chem. 2016;194:46-54.
Sun J, Zhou B, Tang C, Gou Y, Chen H, Wang Y, et al. Characterization, antioxidant activity and hepatoprotective effect of purple sweetpotato polysaccharides. International journal of biological macromolecules. 2018;115:69-76.
Li X, Liu H, Lv L, Yan H, Yuan Y. Antioxidant activity of blueberry anthocyanin extracts and their protective effects against acrylamide-induced toxicity in HepG2 cells. International Journal of Food Science & Technology. 2017;53:147-55.
Han KH, Sekikawa M, Shimada K, Hashimoto M, Hashimoto N, Noda T, et al. Anthocyanin-rich purple potato flake extract has antioxidant capacity and improves antioxidant potential in rats. The British journal of nutrition. 2006;96(6):1125-1133
Lee YM, Yoon Y, Yoon H, Park HM, Song S, Yeum KJ. Dietary Anthocyanins against Obesity and Inflammation. Nutrients. 2017;9(10) : 1-15
Shimizu S, Matsushita H, Morii Y, Ohyama Y, Morita N, Tachibana R, et al. Effect of anthocyanin-rich bilberry extract on bone metabolism in ovariectomized rats. Biomedical reports. 2018;8(2):198-204.
Horie K, Nanashima N, Maeda H. Phytoestrogenic Effects of Blackcurrant Anthocyanins Increased Endothelial Nitric Oxide Synthase (eNOS) Expression in Human Endothelial Cells and Ovariectomized Rats. Molecules. 2019;24(7): 1-11
Nanashima N, Horie K, Maeda H, Tomisawa T, Kitajima M, Nakamura T. Blackcurrant Anthocyanins Increase the Levels of Collagen, Elastin, and Hyaluronic Acid in Human Skin Fibroblasts and Ovariectomized Rats. Nutrients. 2018;10(4): 1-15
---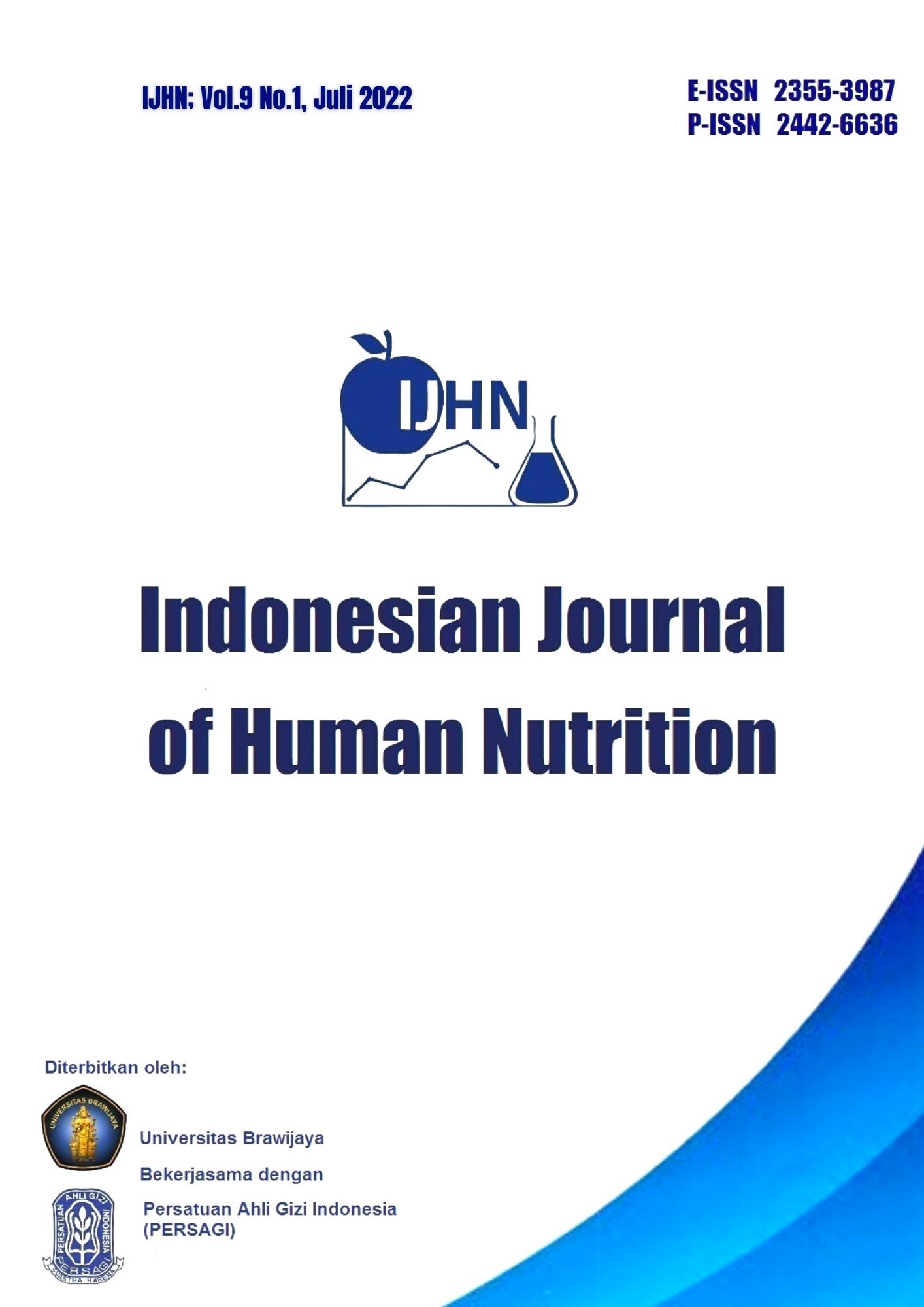 ---
Downloads
---
How to Cite
1.
Sugiritama IW, Ratnayanti IGAD, Linawati NM, Wahyuniari IAI, Wiryawan IGNS, Arijana IGKN. Ekstrak Etanol Ubi Jalar Ungu (Ipomea batatas L.) Menurunkan Kadar MDA Plasma Tikus Model Menopause. IJHN [Internet]. 2022 Jul. 30 [cited 2023 Dec. 6];9(1):49-60. Available from: https://ijhn.ub.ac.id/index.php/ijhn/article/view/606
---
License
Copyright (c) 2022 Indonesian Journal of Human Nutrition
This work is licensed under a Creative Commons Attribution-NonCommercial 4.0 International License.
This work is licensed under a
Creative Commons Attribution-NonCommercial 4.0 International License
---