Knowledge of Dietary Recommendations, Food Availability, and Food Selection Attitudes of Adults during the COVID-19 Pandemic
---
---
Keywords:
food availability, knowledge, food selection attitude, COVID-19 pandemic
---
Abstract
SARS-CoV-2, the novel coronavirus responsible for COVID-19 disease, has affected all regions of Indonesia, leading to an increase in cases and prompting the Indonesian government to impose Large-Scale Social Restrictions (LSSR). Prolonged exposure to LSSR can potentially impact diet, dietary availability, and food preferences. Therefore, understanding the knowledge of dietary recommendations during the COVID-19 pandemic is crucial to support individuals in maintaining a healthy diet and lifestyle. This study aims to investigate the relationship between knowledge of dietary intake recommendations, food availability, and food selection attitudes among adults during the COVID-19 pandemic. A cross-sectional design was employed, and 124 individuals were selected as research subjects using a purposive sampling technique. The data on knowledge, food availability, and attitudes towards food selection were collected through a Google Forms questionnaire. Statistical test was conducted using the Fisher Exact test to determine the relationship between variables. The findings of this study demonstrated no correlation between knowledge and food selection attitude (p>0.05), as well as between food availability and food selection attitude (p>0.05). However, there was a tendency for individuals with good knowledge to have good attitudes and individuals with good attitudes to have sufficient food availability, despite the absence of statistical correlation.
---
---
References
WHO. Pertanyaan dan Jawaban terkait Coronavirus. 2020; Available from: https://www.who.int/indonesia/news/novel-coronavirus/qa-for-public
Setiawan AR. Lembar Kegiatan Literasi Saintifik untuk Pembelajaran Jarak Jauh Topik Penyakit Coronavirus 2019 (COVID-19). Edukatif J Ilmu Pendidik. 2020;2(1):28–37.
Aaseth J. Early Nutritional Interventions with Zinc, Selenium Against Progressive COVID-19. Nutrients. 2020;12:1–12.
WHO. Coronavirus Disease (COVID-19) Pandemic [Internet]. 2020. Available from: https://www.who.int/emergencies/diseases/novel-coronavirus-2019
Kementerian Kesehatan RI. Pedoman Pencegahan dan Pengendalian COVID-19. Math Didactic: Jurnal Pendidikan Matematika. 2020. p. 1–214.
Herdiana D. Implementasi Kebijakan Pembatasan Sosial Berskala Besar (PSBB) sebagai Upaya Penanggulangan Corona Virus Disease 2019 (COVID-19). Vol. 2019. STIA CIMAHI; 2019.
Fauzi A. Implementasi Pembatasan Sosial Berskala Besar, Sebuah Kebijakan Publik dalam Penanganan Pandemi COVID-19. J Ilmu Adm Negara. 2020;16(1):174–8.
Caulfield T. Pseudoscience and COVID-19 — We've Had Enough Already. Nature. 2020 Apr;
Sidor A, Rzymski P. Dietary Choices and Habits during COVID-19 Lockdown: Experience from Poland. Nutrients. 2020;12(6):1–13.
Górnicka M, Drywień ME, Zielinska MA, Hamułka J. Dietary and Lifestyle Changes During COVID-19 and the Subsequent Lockdowns among Polish Adults: A Cross-Sectional Online Survey PLifeCOVID-19 Study. Nutrients. 2020;12(2324):1–20.
Di Renzo L, Gualtieri P, Pivari F, Soldati L, Attinà A, Cinelli G, et al. Eating Habits and Lifestyle Changes during COVID-19 Lockdown: An Italian Survey. J Transl Med [Internet]. 2020;18(1):1–15. Available from: https://doi.org/10.1186/s12967-020-02399-5
Scarmozzino F, Visioli F. Covid-19 and the Subsequent Lockdown Modified Dietary Habits of Almost Half the Population in an Italian Sample. Foods. 2020;9(5):1–8.
Eva N, Saputra DR, Wulandari DA, Yahya FA, Annisa W. Panic-Buying Behaviour During the COVID-19 Outbreak: A Cross-Cultural Psychological Study. KnE Soc Sci. 2021;2020:80–7.
Jeżewska-Zychowicz M. Consumers' Fears Regarding Food Availability and Purchasing Behaviors during The COVID-19 Pandemic: The Importance of Trust and Perceived Stress. Nutrients. 2020;12(9):1–14.
Marty L, Lauzon-guillain B De, Labesse M, Nicklaus S. Food Choice Motives and The Nutritional Quality of Diet during The COVID-19 Lockdown in France. Elsevier. 2020;157(January):1–7.
Kementerian Kesehatan RI. Panduan Gizi Seimbang pada Masa Pandemi COVID-19 [Internet]. 2020. p. 1–32. Available from: https://covid19.go.id/storage/app/media/Materi Edukasi/final-panduan-gizi-seimbang-pada-masa-covid-19-1.pdf
Larasati MD, Yuliana S. Food Intake, Nutritional Status and Cardio Respiration Health Of Swimming Athletes. J Ris Gizi. 2020;8(1):37–43.
Laila MN, Muninggar DLP, Jaelani M. Nutrition Education Based on Android Application on Knowledge Level of Diabetes' Four Pillars Management in Prolanis Participants. J Ris Gizi [Internet]. 2020;8(1):18–24. Available from: http://ejournal.poltekkes-smg.ac.id/ojs/index.php/jrg/article/view/6273/2008
Luo Y, Chen L, Xu F, Gao X, Han D, Na L. Investigation on Knowledge, Attitudes and Practices about Food Safety and Nutrition in the China during the Epidemic of Corona Virus Disease 2019. Public Health Nutr. 2021;24(2):267–74.
Wandasari N. Hubungan Pengetahuan Ibu tentang Mie Instan dan Perilaku Konsumsi Mie Instan pada Balita di RW 04 Perumahan Villa Balaraja Kabupaten Tangerang. 2014;11(3):386–401.
Martini. Hubungan Antara Pengetahuan Lingkungan dengan Perilaku Prolingkungan Sekolah Adiwiyata. Rang Tek J. 2019;2(1):71–8.
Mohammad A, Madanijah S. Konsumsi Buah dan Sayur Anak Usia Sekolah Dasar Di Bogor. J Gizi dan Pangan. 2015;10(1):71–6.
Aprillia BA, Dieny FF. Faktor yang Berhubungan dengan Pemilihan Makanan Jajanan pada Anak Sekolah Dasar. Science (80- ). 2011;1–63.
Sartika I, Nikmawati EE, Mahmudatussa'adah A. Pengetahuan dan Keterampilan Pemilihan Makanan Sehari-Hari Mahasiswa Program Studi Pendidikan Tata Busana. Media Pendidikan, Gizi, dan Kuliner. 2017;3(1):65–76.
---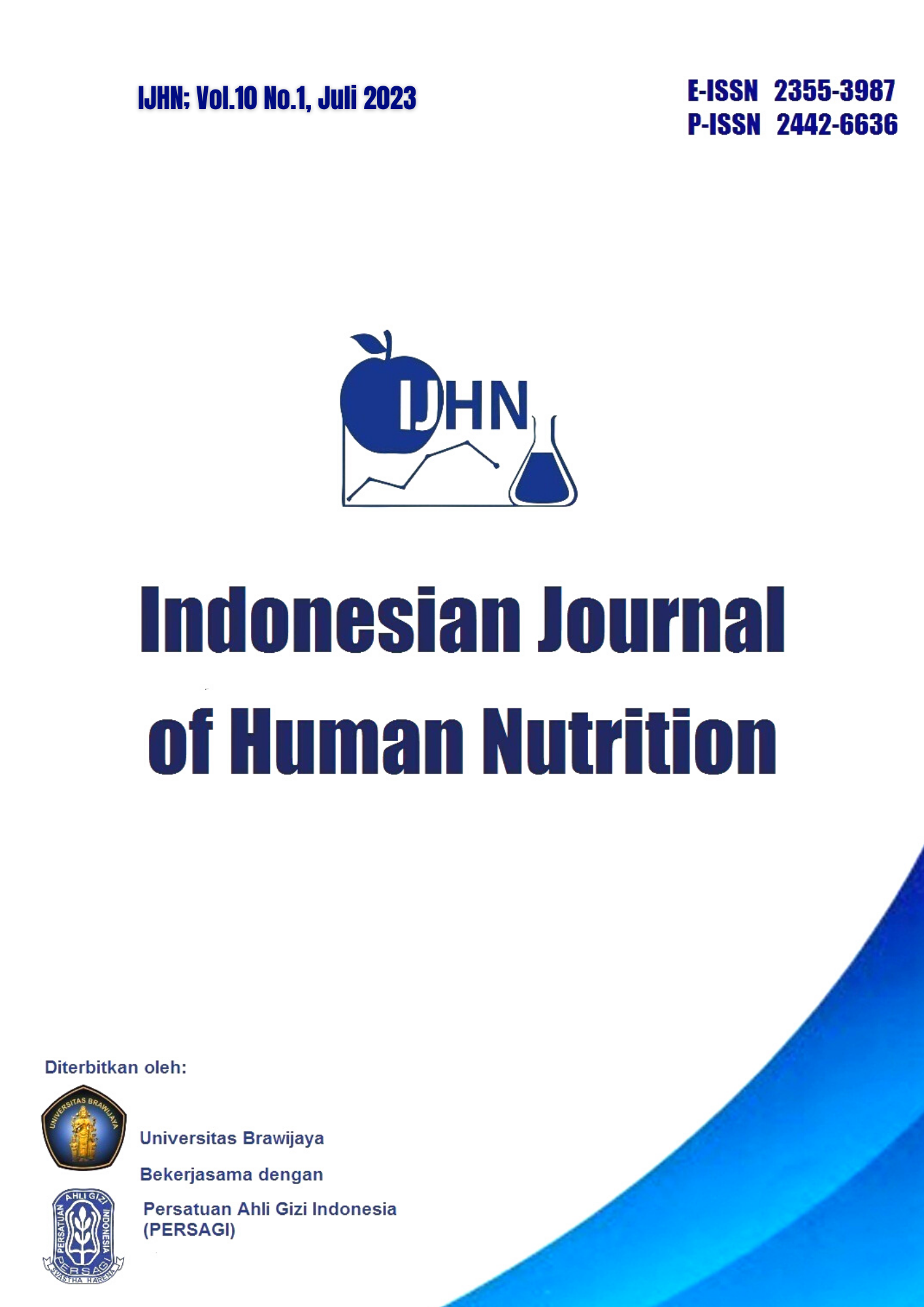 ---
Downloads
---
How to Cite
1.
Lukmana ED, Larasati MD, Jaelani M. Knowledge of Dietary Recommendations, Food Availability, and Food Selection Attitudes of Adults during the COVID-19 Pandemic. IJHN [Internet]. 2023 Jul. 6 [cited 2023 Dec. 6];10(1):42-50. Available from: https://ijhn.ub.ac.id/index.php/ijhn/article/view/610
---
License
Copyright (c) 2023 Indonesian Journal of Human Nutrition
This work is licensed under a Creative Commons Attribution-NonCommercial 4.0 International License.
This work is licensed under a
Creative Commons Attribution-NonCommercial 4.0 International License
---