Telemedicine for Monitoring Nutritional Intake in Malnourished Community-Dwelling Elderly: A Scoping Review of Clinical Trials
---
---
Keywords:
elderly, malnutrition, telemedicine
---
Abstract
Malnutrition is part of the geriatric giant and a major concern among community-dwelling elderly individuals. Improper intervention of this problem can have detrimental effects on the elderly. Monitoring nutritional intake plays a vital role in managing malnutrition. Telemedicine has been widely applied for managing chronic diseases and gained prominence during the COVID-19 pandemic as a remote health monitoring method. This scoping review aims to identify the advantages and limitations of implementing telemedicine for addressing malnutrition in community-dwelling elderly. This study reviewed the literature obtained through a systematic search of PubMed and ScienceDirect databases, supplemented by manual searches based on specific inclusion criteria.  Two randomized controlled trials (RCTs) assessing the application of telemedicine for malnutrition were identified. The forms of telemedicine used were telecare and set-top boxes on television. The interventions included nutritional monitoring and specific interventions for each patient. However, high patient dropout rates indicated low patient compliance. Nevertheless, the application of telemedicine demonstrated improved patient compliance with nutritional intake guidelines. Limitations of telemedicine implementation included low motivation, technological constraints, and physiological constraints. Telemedicine may be used as a tool for monitoring nutritional intake among malnourished geriatric populations.
---
References
Kabashneh S, Alkassis S, Shanah L, Ali H. A Complete Guide to Identify and Manage Malnutrition in Hospitalized Patients. Cureus. 2020 Jun 7;12(6).
Sinclair AJ, Morley JE, Vellas B. Pathy's Principles and Practice of Geriatric Medicine. 5th ed. Oxford: Wiley-Blackwell; 2012.
Rasheed S, Woods RT. Malnutrition and quality of life in older people: a systematic review and meta-analysis. Ageing Res Rev. 2013 Mar;12(2):561–6.
Verlaan S, Ligthart-Melis GC, Wijers SLJ, Cederholm T, Maier AB, de van der Schueren MAE. High Prevalence of Physical Frailty Among Community-Dwelling Malnourished Older Adults-A Systematic Review and Meta-Analysis. J Am Med Dir Assoc. 2017 May 1;18(5):374–82.
Kiesswetter E, Colombo MG, Meisinger C, Peters A, Thorand B, Holle R, et al. Malnutrition and related risk factors in older adults from different health-care settings: an enable study. Public Health Nutr. 2020 Feb 1;23(3):446–56.
Wong MMH, So WKW, Choi KC, Cheung R, Chan HYL, Sit JWH, et al. Malnutrition risks and their associated factors among home-living older Chinese adults in Hong Kong: hidden problems in an affluent Chinese community. BMC Geriatr. 2019 May 23;19(1).
Bakhtiari A, Pourali M, Omidvar S. Nutrition assessment and geriatric associated conditions among community dwelling Iranian elderly people. BMC Geriatr. 2020 Aug 6;20(1):1–10.
Volkert D, Beck AM, Cederholm T, Cereda E, Cruz-Jentoft A, Goisser S, et al. Management of Malnutrition in Older Patients—Current Approaches, Evidence and Open Questions. J Clin Med. 2019 Jul 1;8(7):974.
Irawati D, Ekawanti A, Josafat A. Nutritional profile in Indonesian elderly subpopulation. JKKI J Kedokt dan Kesehat Indones. 2020 Aug 31;11(2):121–9.
Moreira NCF, Krausch-Hofmann S, Matthys C, Vereecken C, Vanhauwaert E, Declercq A, et al. Risk Factors for Malnutrition in Older Adults: A Systematic Review of the Literature Based on Longitudinal Data. Adv Nutr. 2016 May 1;7(3):507–22.
Kaiser MJ, Bauer JM, Rämsch C, Uter W, Guigoz Y, Cederholm T, et al. Frequency of malnutrition in older adults: a multinational perspective using the mini nutritional assessment. J Am Geriatr Soc. 2010;58(9):1734–8.
Holst M, Beck AM. Nutritional Assessment, Diagnosis, and Treatment in Geriatrics. In: Santy-Tomlinson J, Falaschi P, Hertz K, editors. Perspectives in Nursing Management and Care for Older Adults. Berlin: Springer; 2001.
Paré G, Jaana M, Sicotte C. Systematic Review of Home Telemonitoring for Chronic Diseases: The Evidence Base. J Am Med Inform Assoc. 2007 May;14(3):269.
Aure CF, Kluge A, Moen A. Older Adults' Engagement in Technology-Mediated Self-Monitoring of Diet: A Mixed-Method Study. J Nurs Scholarsh. 2021 Jan 1;53(1):25–34.
Page MJ, McKenzie JE, Bossuyt PM, Boutron I, Hoffmann TC, Mulrow CD, et al. The PRISMA 2020 statement: an updated guideline for reporting systematic reviews. BMC. 2021;372:n71.
Kraft M, Van Den Berg N, Kraft K, Schmekel S, Gärtner S, Krüger J, et al. Development of a telemedical monitoring concept for the care of malnourished geriatric home-dwelling patients: a pilot study. Maturitas. 2012 Jun;72(2):126–31.
Van Doorn-Van Atten MN, Haveman-Nies A, Heery D, De Vries JHM, De Groot LCPGM. Feasibility and Effectiveness of Nutritional Telemonitoring for Home Care Clients: A Pilot Study. Gerontologist. 2019 Jan 9;59(1):158–66.
Annaswamy TM, Verduzco-Gutierrez M, Frieden L. Telemedicine barriers and challenges for persons with disabilities: COVID-19 and beyond. Disabil Health J. 2020 Oct 1;13(4).
Richardson E, Aissat D, Williams GA, Fahy N. Keeping what works: remote consultations during the COVID-19 pandemic. Eurohealth (Lond). 2020;26(2):73–6.
Volterrani M, Sposato B. Remote monitoring and telemedicine. Eur Hear J Suppl. 2019 Dec 1;21(Suppl M):M54–6.
Lopez AM, Lam K, Thota R. Barriers and Facilitators to Telemedicine: Can You Hear Me Now? Am Soc Clin Oncol Educ B. 2021 Jun;41(41):25–36.
Hage E, Roo JP, Van Offenbeek MAG, Boonstra A. Implementation factors and their effect on e-Health service adoption in rural communities: A systematic literature review. BMC Health Serv Res. 2013 Jan 12;13(1):1–16.
Beelen J, Vasse E, Ziylan C, Janssen N, De Roos NM, De Groot LCPGM. Undernutrition: Who cares? Perspectives of dietitians and older adults on undernutrition. BMC Nutr. 2017 Dec 22;3(1):1–9.
---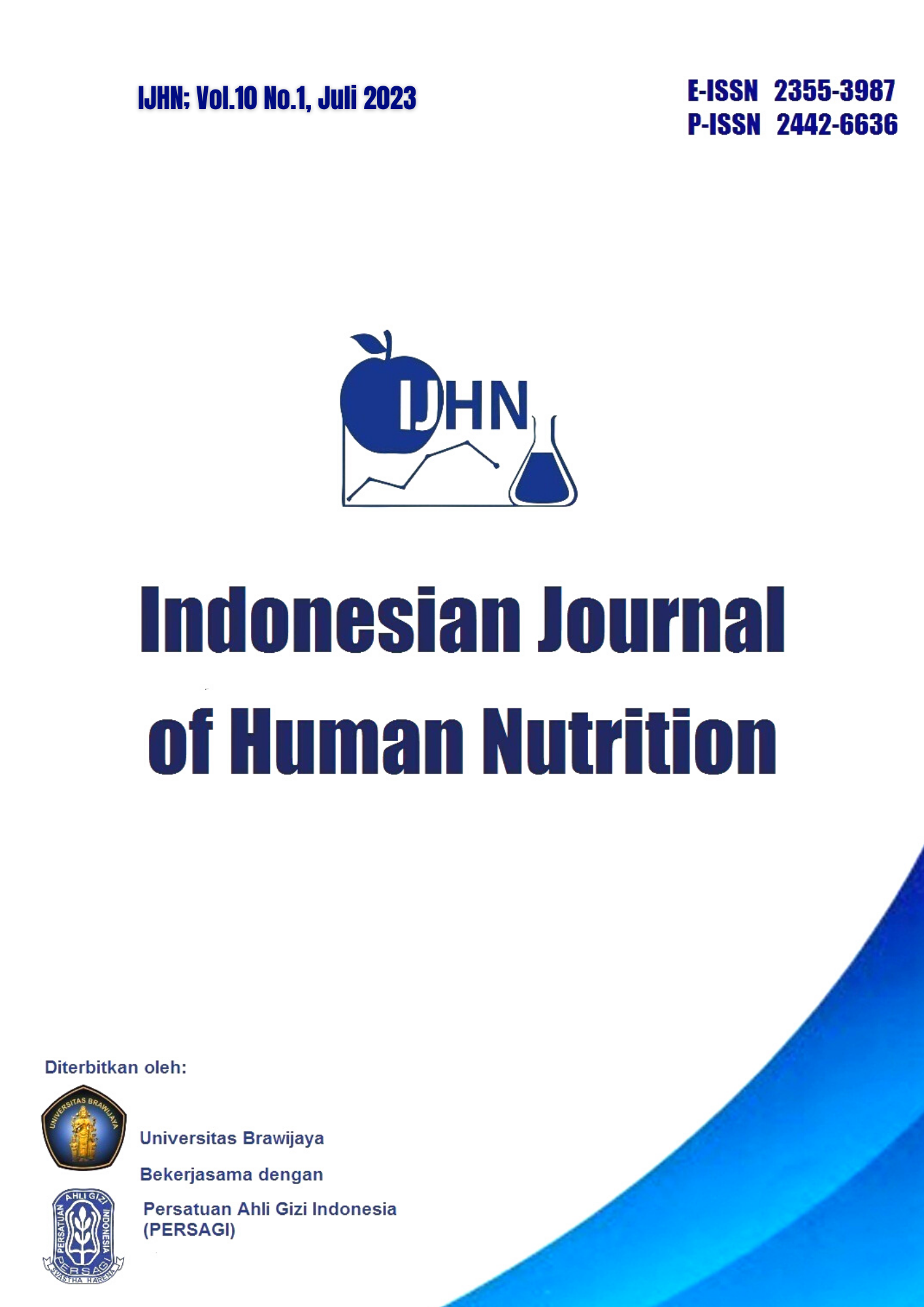 ---
Downloads
---
How to Cite
1.
Saputro BIL, Dhiya Rakasiwi MI, KhairaniSiregar AM. Telemedicine for Monitoring Nutritional Intake in Malnourished Community-Dwelling Elderly: A Scoping Review of Clinical Trials. IJHN [Internet]. 2023 Jul. 6 [cited 2023 Dec. 6];10(1):20-7. Available from: https://ijhn.ub.ac.id/index.php/ijhn/article/view/629
---
License
This work is licensed under a Creative Commons Attribution-NonCommercial 4.0 International License.
This work is licensed under a
Creative Commons Attribution-NonCommercial 4.0 International License
---