Association between Stunting in Children Under Five and Types of Food Sources
---
---
Keywords:
food source, stunting, wealth status, demographic and health survey
---
Abstract
The prevalence of stunting in children under five years old has decreased from 25% in 2013 to 18% in 2019 in The Gambia. The consumption of certain food groups, as part of minimum dietary diversity, serves as a measure of the adequacy of nutrient density for children. This study aims to examine the association between stunted children under five years old and types of food sources, as well as wealth status. Secondary data from The Gambia Demographic and Health Survey 2019-2020 were analyzed, involving 2,533 out of 8,362 children. Logistic regression tests were performed with a 95% confidence interval. Staple foods were identified as the dominant food source for stunted toddlers (p< 0.05; OR = 1.78; 95% CI = 1.436-2.216) and considered a risk factor for stunting. Food intake from more than four food sources (OR = 0.6; 95% CI = 0.403-0.88), place of residence (OR = 0.72; 95% CI = 0.53-0.95), middle wealth status (OR = 0.47; 95% CI = 0.33-0.68), and wealthy household (OR = 0.74; 95% CI = 0.52-1.05) were significantly associated with a reduced likelihood of stunting and considered protective factors. The incidence of stunting is linked to the diversity of food sources given to toddlers. In providing care for stunted toddlers at the community level, stakeholders must consider food diversity, economic capacity, and type of residence.
---
References
Kundan I, Nair R, Kulkarni S, Deshpande A, Jotkar R, Phadke M. Assessment, outcomes and implications of multiple anthropometric deficits in children. BMJ Nutr Prev Heal. 2021;4(1).
Soliman A, De Sanctis V, Alaaraj N, Ahmed S, Alyafei F, Hamed N, et al. Early and long-term consequences of nutritional stunting: From childhood to adulthood. Acta Biomed. 2021;92(1).
World Bank. World Bank Country and Lending Groups. World Bank Country and Lending Groups. 2020.
Gambia Bureau of Statistics (GBoS), ICF. The Gambia Demography and Heath Survey 2013. GBoS ICF. 2014;(April):2014–5.
Gambia Bureau of Statistics (GBoS), ICF. The Gambia Demographic and Health Survey 2019-2020. GBoS ICF. 2021;56(4).
WHO. Indicators for assessing infant and young child feeding practices: Part 1 Definitions. World Health Organization. 2008.
ICF. Demographic and Health Surveys Standard Recode Manual for DHS 7. Usaid [Internet]. 2018;145. Available from: https://dhsprogram.com/pubs/pdf/DHSG4/Recode7_DHS_10Sep2018_DHSG4.pdf
Amaral MM, Herrin WE, Gulere GB. Using the Uganda National Panel Survey to analyze the effect of staple food consumption on undernourishment in Ugandan children. BMC Public Health. 2017;18(1).
Ettyang GAK, Sawe CJ. Factors associated with stunting in children under age 2 in the Cambodia and Kenya 2014 Demographic and Health Surveys. DHS Work Pap. 2016;(126).
Mutisya M, Kandala NB, Ngware MW, Kabiru CW. Household food (in)security and nutritional status of urban poor children aged 6 to 23 months in Kenya Global health. BMC Public Health. 2015;15(1).
Dafursa K, Gebremedhin S. Dietary Diversity among Children Aged 6-23 Months in Aleta Wondo District, Southern Ethiopia. J Nutr Metab. 2019;2019.
Victor R, Baines SK, Agho KE, Dibley MJ. Factors associated with inappropriate complementary feeding practices among children aged 6-23 months in Tanzania. Matern Child Nutr. 2014;10(4).
Wilcox S, Sharpe PA, Liese AD, Dunn CG, Hutto B. Socioeconomic factors associated with diet quality and meeting dietary guidelines in disadvantaged neighborhoods in the Southeast United States. Ethn Heal. 2020;25(8).
Berra WG. Household Food Insecurity Predicts Childhood Undernutrition: A Cross-Sectional Study in West Oromia (Ethiopia). J Environ Public Health. 2020;2020.
Belayneh M, Loha E, Lindtjørn B. Seasonal Variation of Household Food Insecurity and Household Dietary Diversity on Wasting and Stunting among Young Children in A Drought Prone Area in South Ethiopia: A Cohort Study. Ecol Food Nutr. 2020;
Oldewage-Theron WH, Dicks EG, Napier CE. Poverty, household food insecurity and nutrition: Coping strategies in an informal settlement in the Vaal Triangle, South Africa. Public Health. 2006;120(9).
Sekartaji R, Suza DE, Fauziningtyas R, Almutairi WM, Susanti IA, Astutik E, et al. Dietary diversity and associated factors among children aged 6–23 months in Indonesia. J Pediatr Nurs. 2021;56.
Darapheak C, Takano T, Kizuki M, Nakamura K, Seino K. Consumption of animal source foods and dietary diversity reduce stunting in children in Cambodia. Int Arch Med. 2013;6(1).
Sreeramareddy CT, Ramakrishnareddy N, Subramaniam M. Association between household food access insecurity and nutritional status indicators among children aged <5 years in Nepal: Results from a national, cross-sectional household survey. Vol. 18, Public Health Nutrition. 2015.
Agho KE, Mukabutera C, Mukazi M, Ntambara M, Mbugua I, Dowling M, et al. Moderate and severe household food insecurity predicts stunting and severe stunting among Rwanda children aged 6–59 months residing in Gicumbi district. Matern Child Nutr. 2019;15(3).
Gassara G, Chen J. Household food insecurity, dietary diversity, and stunting in sub-saharan africa: A systematic review. Nutrients. 2021;13(12).
Mahmudiono T, Sumarmi S, Rosenkranz RR. Household dietary diversity and child stunting in East Java, Indonesia. Asia Pac J Clin Nutr. 2017;26(2).
Ofoedu CE, Iwouno JO, Ofoedu EO, Ogueke CC, Igwe VS, Agunwah IM, et al. Revisiting food-sourced vitamins for consumer diet and health needs: a perspective review, from vitamin classification, metabolic functions, absorption, utilization, to balancing nutritional requirements. Vol. 9, PeerJ. 2021.
WHO; MIYCF. Essential Nutrition Actions IMPROVING MATERNAL, NEWBORN, INFANT AND YOUNG CHILD HEALTH AND NUTRITION [Internet]. WHO Library Cataloguing. The WHO Document Production Services, Geneva, Switzerland; 2013. 144 p. Available from: (www.who.int)
Papier K, Tong TY, Appleby PN, Bradbury KE, Fensom GK, Knuppel A, et al. Comparison of major protein-source foods and other food groups in meat-eaters and non-meat-eaters in the epic-oxford cohort. Vol. 11, Nutrients. 2019.
Bradbury KE, Tong TYN, Key TJ. Dietary intake of high-protein foods and other major foods in meat-eaters, poultry-eaters, fish-eaters, vegetarians, and vegans in UK biobank. Nutrients. 2017;9(12).
Headey D, Hirvonen K, Hoddinott J. Animal sourced foods and child stunting. Am J Agric Econ. 2018;100(5).
Adesogan AT, Havelaar AH, McKune SL, Eilittä M, Dahl GE. Animal source foods: Sustainability problem or malnutrition and sustainability solution? Perspective matters. Vol. 25, Global Food Security. Elsevier B.V.; 2020.
Zaharia S, Ghosh S, Shrestha R, Manohar S, Thorne-Lyman AL, Bashaasha B, et al. Sustained intake of animal-sourced foods is associated with less stunting in young children. Nat Food. 2021 Apr 1;2(4):246–54.
Baye K, Laillou A, Chitweke S. Socio-economic inequalities in child stunting reduction in sub-Saharan Africa. Nutrients. 2020;12(1).
Obayelu OA, Adepoju AO, Idowu T. Factors influencing farmers ' choices of adaptation to climate change in Ekiti State , Nigeria. J Agric Environ Int Dev - JAEID. 2014;108(1).
Amuzu J, Jallow BP, Kabo-Bah AT, Yaffa S. The climate change vulnerability and risk management matrix for the coastal zone of The Gambia. Hydrology. 2018;5(1).
---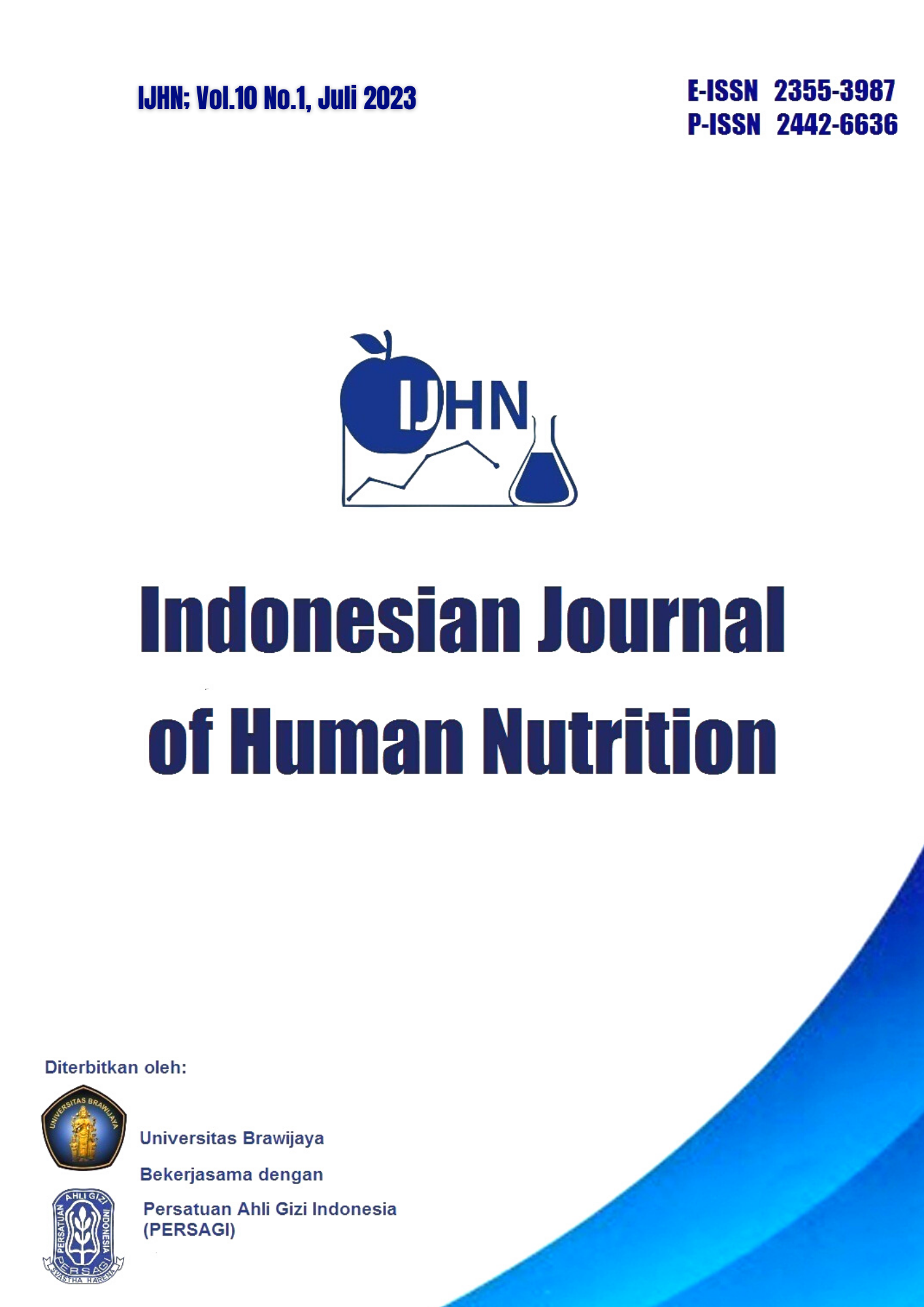 ---
Downloads
---
How to Cite
1.
Mufida Wulan Sari N, Cahyaning Ayu W, Mahmudiono T, Mahmudah M, Soenarnatalina R. Association between Stunting in Children Under Five and Types of Food Sources . IJHN [Internet]. 2023 Jul. 6 [cited 2023 Dec. 6];10(1):12-9. Available from: https://ijhn.ub.ac.id/index.php/ijhn/article/view/659
---
License
This work is licensed under a Creative Commons Attribution-NonCommercial 4.0 International License.
This work is licensed under a
Creative Commons Attribution-NonCommercial 4.0 International License
---