Paternal Roles in Breastfeeding in Jakarta, Indonesia: A Mixed-method Approach
Abstract
Abstract
We explored paternal roles in timely breastfeeding initiation and exclusive breastfeeding practices in Jakarta using a mixed-methods approach in sequence of focus group discussions (FGDs – phase 1) and a quantitative survey (phase 2). The study population was parents with infants aged below 6 months. Data on paternal roles, maternal attributes, and breastfeeding practices were collected from 43 purposively selected parents in phase 1 and 536 couples in phase 2. FGDs provided insights to finalize the questionnaire for the survey. Nine paternal roles were identified: 1-accompanying the mother during antenatal and postnatal visits, 2-suggesting places for health checkups and delivery, 3-seeking information about child nutrition, 4-accompanying the mother during delivery, 5-facilitating psychological support of the mother, 6-childcare involvement, 7-engagement in childcare discussions, 8-involvement in decisions about infant feeding mode, and 9-enthusiasm for fatherhood. Roles 3 (aOR=1.65; 95%CI=1.07 to 2.54) and 9 (1.59; 1.04-2.44) were positively associated with timely initiation of breastfeeding. Role 8 was positively associated with exclusive breastfeeding (1.69; 1.10-2.60), but roles 2 (0.49; 0.32-0.76) and 5 (0.97; 0.41-0.64) were negatively associated with exclusive breastfeeding. Fathers played roles in breastfeeding practices under study. Fathers need a tailored breastfeeding promotion to stimulate necessary support for breastfeeding mothers.
Keywords: initiation of breastfeeding, exclusive breastfeeding, fathers, mixed-methods approach, Indonesia
References
Wall G, Arnold S. How Involved is Involved Fathering? An Exploration of The Contemporary Culture of Fatherhood. Gend Soc. 2007; 21: 508-27.
Hunter T, Cattelona G. Breastfeeding Initiation and Duration in First-time Mothers: Exploring The Impact of Father Involvement in The Early Post-partum Period. Health Promot Perspect. 2014; 4: 132-6.
Nickerson LE, Sykes AC, Fung TT. Mothers' Experience of Fathers' Support for Breastfeeding. Public Health Nutr. 2012; 15: 1780-7.
Rempel LA, Rempel JK. The Breastfeeding Team: The Role of Involved Fathers in the Breastfeeding Family. J Hum Lact. 2011; 27: 115-21.
Bar-Yam NB, Darby L. Fathers and Breastfeeding: A Review of Literature. J Hum Lact. 1997; 13: 45-50.
Bhatta DN. Involvement of Males in Antenatal Care, Birth Preparedness, Exclusive Breast Feeding and Immunizations for Children in Kathmandu, Nepal. BMC Pregnancy Childbirth. 2013; 13: 14.
Binns C, Lee MK, Low WY. The Long-term Public Health Benefits of Breastfeeding. Asia Pac J Public Health. 2016; 28: 7-14.
Chomtho S. Breastfeeding to Prevent Double Burden of Malnutrition. Southeast Asian J Trop Med Public Health. 2014; 45: 132-6.
Ministry of Health, Republic of Indonesia. Key Findings of National Basic Health Survey 2018 (Hasil Utama Riskesdas 2018). Badan Penelitian dan Pengembangan Kesehatan. Published October 2018. Accessed December 10, 2018. Available from: http://www.depkes.go.id/resources/download/info-terkini/materi_rakorpop_2018/Hasil%20Riskesdas%202018.pdf.
Development Initiatives. 2018 Global Nutrition Report: Shining A Light to Spur Action on Nutrition. Bristol, UK: Development Initiatives; 2018.
Hector D, King L, Webb K. Factors Affecting Breastfeeding Practices: Applying A Conceptual Framework. N S W Public Health Bull. 2005; 16: 52-5.
Februhartanty J. Desk Review: Studies on Factors Affecting Breastfeeding Practice in Indonesia. Jakarta: UNICEF Indonesia; 2011.
Tashakkori A, Teddlie C. Mixed Methodology: Combining Qualitative and Quantitative Approaches. Applied Social Research Methods Series, Volume 46. California: SAGE Publications Inc., 1998.
Lwanga SK, Lemeshow S. Sample Size Determination in Health Studies: A Practical Manual. Geneva: World Health Organization; 1991.
Jakarta Provincial Health Office. Rapid Survey on Exclusive Breastfeeding Rate in DKI Jakarta Province. Jakarta: Jakarta Provincial Health Office; 2005.
Yourkavitch J, Alvey J, Prosnitz D, Thomas J. Engaging Men to Promote and Support Exclusive Breastfeeding: A Pooled Analysis of USAID's Child Survival and Health Grants Program, 2003–2013. J Health Pop Nutr. 2017; 36: 43.
Field A. Discovering Statistics using IBM SPSS Statistics. London: SAGE Publications Ltd; 2013. 453-55.
Alio AP, Lewis CA, Scarborough K, Harris K, Fiscella K. A Community Perspective on The Role of Fathers During Pregnancy: A Qualitative Study. BMC Pregnancy Childbirth. 2013; 13: 60. Accessed May 13, 2019. Available from: http://www.biomedcentral.com/1471-2393/13/60.
Falceto OG, Giugliani ERJ, Fernandes CLC. Couples Relationships and Breastfeeding: Is There an Association? J Hum Lact. 2004; 19: 2046-55.
Lamb ME (ed). The Role of the Father in Child Development 5th edition. Canada: John Wiley & Sons, Inc.; 2010. 323-4.
Brown A, Davies R. Fathers' Experiences of Supporting Breastfeeding: Challenges for Breastfeeding Promotion and Education. Matern Child Nutr. 2014; 10: 510-26.
Case DO. Looking for Information: A Survey of Research on Information Seeking, Needs and Behavior. Bingley: Emerald Group Publishing, 2012. In: Khan A and Nisa HU. Gender Difference in Information Seeking of Research Scholars at University of Sargodha, Pakistan. Library Philosophy and Practice (e-journal), 2017: 1597. Accessed January 25, 2019. Available from: http://digitalcommons.unl.edu/libphilprac/1597.
Titaley CR, Loh PC, Prasetyo S, Ariawan I, Shankar AH. Socio-economic Factors and Use of Maternal Health Services are Associated with Delayed Initiation and Non-exclusive Breastfeeding in Indonesia: Secondary Analysis of Indonesia Demographic and Health Surveys 2002/2003 and 2007. Asia Pac J Clin Nutr. 2014; 23: 91-104.
Phongsavath K. Improvement in Exclusive Breastfeeding in Lao PDR: Role of Communication. Southeast Asian J Trop Med Public Health 2014; 45: 129-31.
Taib R. Breastfeeding Initiative in Brunei Darussalam. Southeast Asian J Trop Med Public Health. 2014; 45: 123-8.
Wiradnyani LAA, Shankar AH, Khusun H, Achadi EL, Ocviyanti D. Role of Family Support and Women's Knowledge on Pregnancy-related Risks in Adherence to Maternal Iron–folic Acid Supplementation in Indonesia. Public Health Nutr. 2016; 19: 2818-28.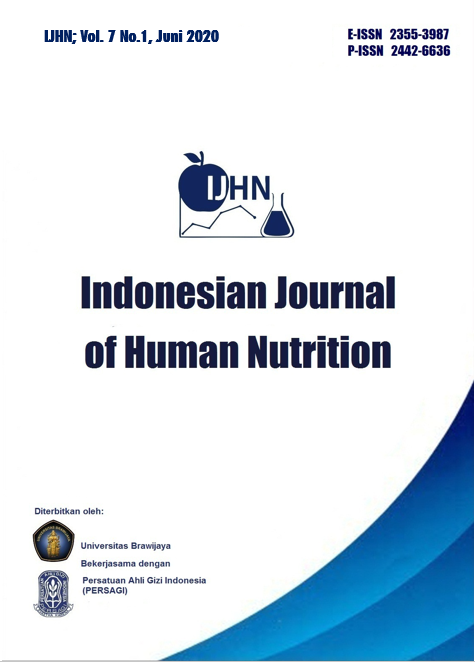 Downloads
License
This work is licensed under a
Creative Commons Attribution-NonCommercial 4.0 International License