Sensory Evaluation and Fiber Content Analysis of Analog Rice with Moringa Leaf Flour Substitution
---
---
Keywords:
Analog rice, sensory evaluation, dietary fiber, moringa leaf flour
---
Abstract
Analog rice, also known as artificial rice, is a rice substitute made from a combination of local flours, including sorghum flour, mocaf flour, and glucomannan. Incorporating Moringa leaves into analog rice flour offers potential health benefits due to its anti-diabetic and antihyperglycemic effects, which lowers blood sugar levels and HbA1C levels in individuals with Diabetes Mellitus. This study aims to develop analog rice using a combination of sorghum, mocaf, and glucomannan flour and to determine its sensory properties and fiber content. This study employed an experimental design, with Moringa leaf flour substitutions divided into P1 (0%), P2 (2%), P3 (4%), P4 (6%), P5 (8%), and P6 (10%), using a Completely Randomized Design (CRD). Sensory evaluation was done using the hedonic test, involving 25 trained panelists who assessed taste, aroma, color, and texture. Fiber content was analyzed using the enzymatic gravimetric test. Data were analyzed using a one-way ANOVA test, followed by Duncan's test if p<0.005. The results showed a significant effect of Moringa leaf flour substitution on sensory evaluation and fiber content (p<0.001 for all comparisons). Based on sensory evaluation, panelists preferred analog rice P2 (2%). The fiber content of analog rice with Moringa leaf flour substitution ranged from 11.16 to 13.65% for insoluble dietary fiber, 0.60 to 0.99% for soluble dietary fiber, and 11.80 to 14.62% for total dietary fiber. Moringa leaf flour substitution had a significant difference in sensory evaluation and fiber content of analog rice. The highest preference level was found in P2 (2%) analog rice, while the highest total fiber content was found in P5 (8%) analog rice.
---
References
Kemenkes RI. Infodatin-2020-Diabetes-Melitus.pdf. 2020.
International Diabetes Federation (IDF). IDF DIABETES ATLAS NONTH EDITION 2019. 2020.
Kemenkes RI. Hasil Riset Kesehatan Dasar Tahun 2018. Kementrian Kesehatan RI. 2019;53(9):1689–99.
Arif A Bin, Budiyanto A, Hoerudin D, Penelitian BB, Pengembangan D, Pertanian P. Glicemic Index of Foods and Its Affecting Factors. Jurnal Litbang Pertanian. 2013;32(3):91–9.
Widowati S, Astawan M. Penurunan Indeks Glikemik berbagai Varietas Beras Melalui Proses Pratanak. Jurnal Penelitian Pascapanen Pertanian. 2018;6(1):1–9.
Darmanto Y, Riyadi PH, Susanti S. Beras Analog Super. 1st ed. Semarang: Undip Press; 2017.
Mahfuzhah N, Ridwansyah, Lubis Z. KARAKTERISTIK KIMIA BERAS ANALOG BERBAHAN BAKU TEPUNG KOMPOSIT DARI JAGUNG, SAGU, SORGUM, DAN UBI KAYU. 2018;6(4):734–40.
Suarni. Potensi Sorgum sebagai Bahan Pangan Fungsional. Iptek Tanaman Pangan. 2012;7(1):58–66.
Yousif A, Nhepera D, Johnson S. Influence of sorghum flour addition on flat bread in vitro starch digestibility, antioxidant capacity and consumer acceptability. Food Chemistry. 2012 Sep;134(2):880–7.
Ademiluyi AO, Oboh G. Soybean phenolic-rich extracts inhibit key-enzymes linked to type 2 diabetes (α-amylase and α-glucosidase) and hypertension (angiotensin I converting enzyme) in vitro. Experimental and Toxicologic Pathology. 2013 Mar;65(3):305–9.
Ambarwati A. Penentuan Indeks Glikemik Biji Sorgum yang Dioalah dengan Cara Ditanak pada Hewan Coba Kelinci (Oryctolagus Cuniculus). Fakultas Farmasi , Universitas Airlangga. 2013;
Subagio A, Windrati WS. Pengaruh Komposisi MOCAF (Modified Cassava Flour) dan Tepung Beras pada Karakteristik Beras Cerdas. Pangan. 2012;21(1):29–38.
Loebis E, Junaidi L, Susanti I. Karakterisasi Mutu Dan Nilai Gizi Nasi Mocaf Dari Beras Analog - (Characterization of Quality and Nutrition Value of Cooked Rice Mocaf From Rice Analog). Biopropal Industri. 2017;8(1):33–46.
Alethea T, Ramadhian MR. Efek Antidiabetik pada Daun Kelor. Jurnal Majority. 2015;Vol 4(No 9):Hal 118-122.
Fatmawati A, Sucianingsih D, Kurniawati R, Abdurrahman M. Microscopic Identification and Determination of Total Flavonoid Content of Moringa Leaves Extract and Ethyl Acetate Fraction (Moringa oleifera L.). Indonesian Journal of Pharmaceutical Science and Technology. 2021;1(0):66–74.
Syamra A. Pemberian Rebusan Daun Kelor Terhadap Penurunan Kadar Glukosa Darah Pada Pasien Penderita Diabetes Mellitus (DM). Media Laboran. 2018;8(Dm):51.
Aini. Makalah Kelor (Moringa Oliefera). Fakultas Kesehatan Masyarakat, Universitas Sumatera Utara. 2015;
Nabilla D, Aji A, Nufaisah A, Saputri W, Aprilia V, Rahayu H, et al. Pengembangan Biskuit "Prozi" Tinggi Protein dan Kaya Zat Besi untuk Ibu Hamil sebagai Upaya Pencegahan Stunting: Prozi Biscuit Development. Amerta Nutrition. 2022 Dec 23;6:79–84.
Sunarti. Serat Pangan dalam Penanganan Sindrom Metabolik. 1st ed. yogyakarta: Gadjah Mada University Press; 2017.
Susanti N. SUPLEMENTASI TEPUNG PORANG (Amorphophallus muelleri Blume) SEBAGAI Nutraceutical DALAM MANAJEMEN DIABETES MELLITUS TIPE 2. el–Hayah. 2014 Sep;5(1):9.
Siska Ariftiyana, Veriani Aprilia, Lieyan Nurfikasari, Dwi Muriyati, Agus Prastowo, Yulinda Kurniasari, et al. Porang (Amorphophallus oncophyllus) Flour Macerated with Strobilanthes crispus Reduced the Blood Glucose Levels of Streptozotocin-Induced Diabetic Rats | Open Access Macedonian Journal of Medical Sciences. 2023 Jul 23 [cited 2023 Jul 27]; Available from: https://oamjms.eu/index.php/mjms/article/view/9505
Notoatmojo. Metodologi Penelitian Kesehatan. Jakarta: Rineka Cipta; 2010.
Kartika, Bambang, Hastuti P, Supartono W. Pedoman Uji Inderawi Bahan Pangan. yogyakarta: Pusat Antar Universitas Pangan dan Gizi Universitas Gadjah Mada; 1998.
Pimentel TC, Gomes da Cruz A, Deliza R. Sensory Evaluation: Sensory Rating and Scoring Methods. In: Caballero B, Finglas PM, Toldrá F, editors. Encyclopedia of Food and Health [Internet]. Oxford: Academic Press; 2016 [cited 2023 Jun 4]. p. 744–9. Available from: https://www.sciencedirect.com/science/article/pii/B9780123849472006176
Cunniff P. Official methods of analysis of AOAC international. 16th ed. Washington, DC: Association of Official Analytical Chemists; 1995. 2 p.
Nisizawa K. Seaweeds Kaiso. Japan Seaweed Association, editor. Tokyo: USA Marine Biological Institute; 2002. 106 p.
Negara JK, Sio AK, Rifkhan R, Arifin M, Oktaviana AY, Wihansah RRS, et al. Aspek mikrobiologis, serta Sensori (Rasa, Warna,Tekstur, Aroma) Pada Dua Bentuk Penyajian Keju yang Berbeda. Jurnal Ilmu Produksi dan Teknologi Hasil Peternakan. 2016;4(2):286–90.
Damat D, Tain A, Winarsih S, Siskawardhani DD, Rastikasari A. Teknologi Proses Pembuatan Beras Analog Fungsional. 2020. 93 p.
Zakaria, Nursalim, Tamrin A. Pengaruh Penambahan Tepung Daun Kelor Terhadap Daya Terima dan Kadar Protein Mie Basah. Media Gizi Pangan Tepung Daun Kelor. 2016;21(1):73–8.
Sari FI. Pengaruh Penambahan Tepung Daun Kelor (Moringa oleifera) dalam Pembuatan Bolu Kukus Menggunakan Tepung Terigu dan Tepung Pisang Kepok Putih [Internet] [Thesis]. Universitas Sumatera Utara; 2019 [cited 2023 Jun 5]. Available from: https://repositori.usu.ac.id/handle/123456789/16248
Komalasari H, Saloko S, Sulastri Y. PENGARUH PENGGUNAAN DAUN KELOR DAN PENAMBAHAN Sargassum sp. TERHADAP SIFAT FISIKOKIMIA DAN SENSORIS BERAS ANALOG. Universitas Mataram. 2017;
Deman J. Principle of Food Chemustry (Terjemahan) Kimia Makanan. 2nd ed. Padmawinata K, editor. Bandung: ITB Press; 1989. 50–214 p.
Ilona, A D, Ismawati R. Pengaruh penambahan ekstrak daun kelor (Moringa oleifera) dan waktu inkubasi terhadap sifat organoleptik yoghurt. Jurnal Tata Boga. 2015;4(3):151–9.
Khasanah V, Astuti P. Pengaruh Penambahan Ekstrak Dau Kelor (Moringa Oleifera) Terhadap Kualitas Inderawi Dan Kandungan Protein Mie Basah Substitusi Tepung Mocaf. Jurnal Kompetensi Teknik. 2019;11(2):15–21.
Gultom NS. Pengaruh Perbandingan Tepung Mocaf dengan Tepung Terigu dan Penambahan Tepung Daun Kelor Terhadap Mutu Cup Cake. 2019;
Cahyaningati O. PENGARUH PENAMBAHAN TEPUNG DAUN KELOR (Moringa oleifera Lamk) TERHADAP KADAR β-KAROTEN DAN ORGANOLEPTIK BAKSO IKAN PATIN (Pangasius pangasius). JFMR-Journal of Fisheries and Marine Research. 2020;4(3):345–51.
Ismarani. POTENSI SENYAWA TANNIN DALAM MENUNJANG PRODUKSI RAMAH LINGKUNGAN Ismarani Abstract menjadi hydrolyzable tannin dan condensed tannins ( proanthocyanidins ). Jurnal Agribisnis dan Pengembangan Wilayah. 2012;3(2):46–55.
Aminah S, Ramdhan T, Yanis M. Kandungan Nut risi dan Sifat Fungsional Tanam an Kelor ( M oringa oleifera ). Buletin Pertanian Perkotaan. 2015;5(30):35–44.
Agustin AT, Zaini MA, Handito D. Pengaruh Metode Dan Suhu Blanching Terhadap Persenyawaan Serat Batang Pisang Sebagai Bahan Baku Pembuatan Ares. Pro Food. 2020;6(1):609–22.
Angelina C, Swasti YR, Pranata FS. PENINGKATAN NILAI GIZI PRODUK PANGAN DENGAN PENAMBAHAN BUBUK DAUN KELOR (Moringa oleifera): REVIEW. Jurnal Agroteknologi. 2021;15(01):79.
Deehan EC, Duar RM, Armet AM, Perez-Muñoz ME, Jin M, Walter J. Modulation of the Gastrointestinal Microbiome with Nondigestible Fermentable Carbohydrates To Improve Human Health. Britton RA, Cani PD, editors. Microbiology Spectrum. 2017 Sep;5(5).
Ioniță-Mîndrican CB, Ziani K, Mititelu M, Oprea E, Neacșu SM, Moroșan E, et al. Therapeutic Benefits and Dietary Restrictions of Fiber Intake: A State of the Art Review. Nutrients. 2022 Jun 26;14(13):2641.
Hernawan E, Meylani V. Analisis Karakteristik Fisiokimia Beras Putih, Beras Merah dan Beras Hitam (Oryza sativa L., Oryza nivara dan Oryza sativa L. indica). Jurnal Kesehatan Bakti Tunas Husada: Jurnal Ilmu-ilmu Keperawatan, Analis Kesehatan dan Farmasi. 2016;15(1):79.
Kumolontang N, Edam M. Kandungan Serat Pangan dan Tingkat Kesukaan Beras Analog Berbahan Tepung Talas dan Tepung Kelapa The Level of Accepetance and Fiber Conten of Rice Analogue Made from Taro and Coconut Flour Mixture Nova Kumolontang , Mariati Edam. Jurnal Penelitian Teknologi Industri. 2020;12(1):11–8.
Augustyn GH, Tuhumury HCD, Dahoklory M. Pengaruh Penambahan Tepung Daun Kelor (Moringa oleifera) Terhadap Karakteristik Organoleptik dan Kimia Biskuit Mocaf (Modified Cassava Flour). AGRITEKNO, Jurnal Teknologi Pertanian. 2017;6(2):52–8.
Susilowati E. Kajian Aktivitas Antioksidan, Serat Pangan, dan Kadar Amilosa pada Nasi yang Disubtitusi dengan Ubi Jalar (Ipomoea batatas L.) sebagai Bahan Makanan Pokok. Universitas Sebelas Maret. 2010. 22 p.
Noviasari S, Kusnandar F, Setiyono A, Budijanto S. Beras Analog Sebagai Pangan Fungsional Dengan Indeks Glikemik Rendah. Jurnal Gizi dan Pangan. 2016;10(3):225–32.
---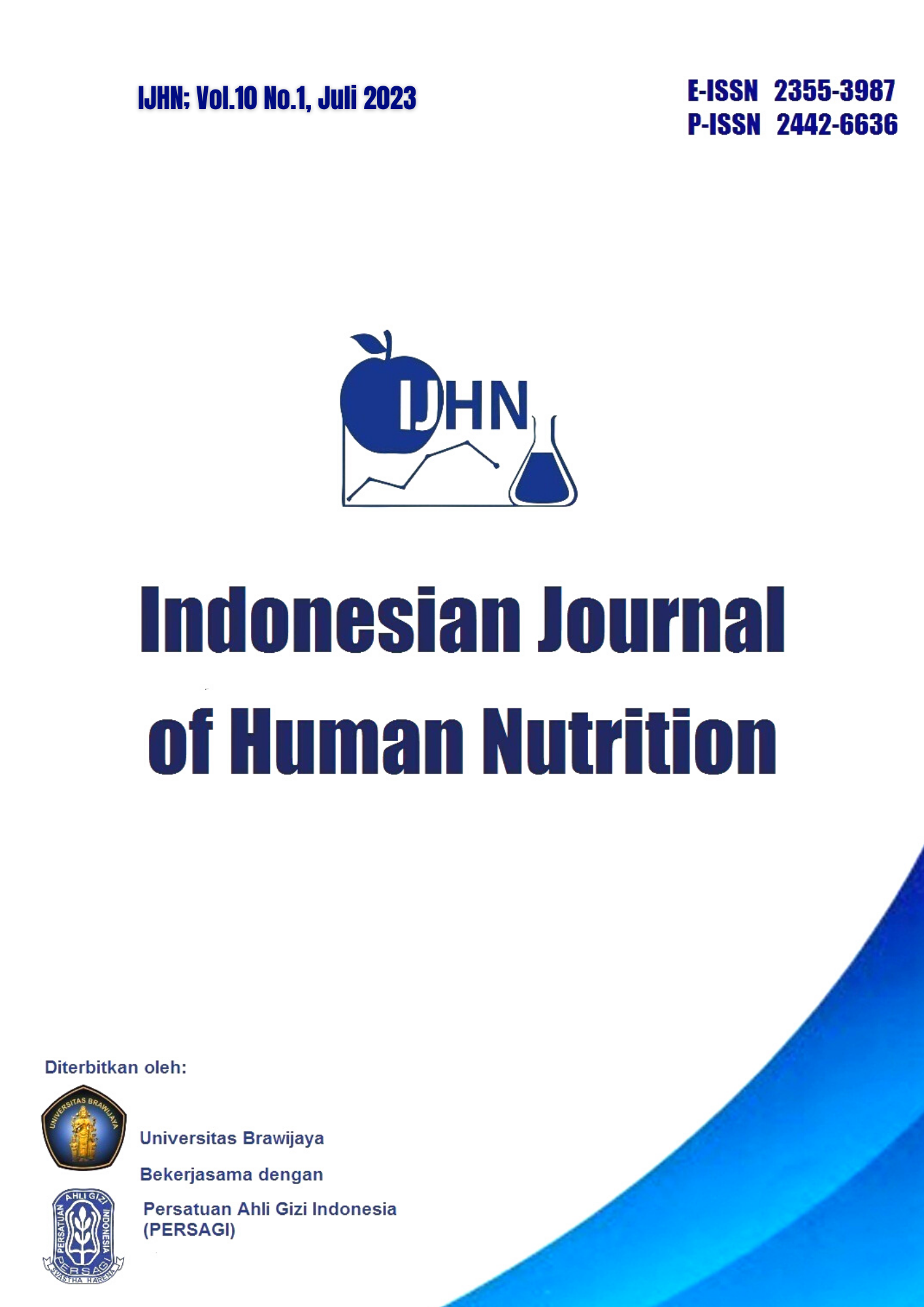 ---
Downloads
---
How to Cite
1.
Wahyuningsih I, Aji AS, Aprilia V, Saloko S, Seftina D, Meiliza Majid V. Sensory Evaluation and Fiber Content Analysis of Analog Rice with Moringa Leaf Flour Substitution. IJHN [Internet]. 2023 Jul. 6 [cited 2023 Dec. 6];10(1):28-41. Available from: https://ijhn.ub.ac.id/index.php/ijhn/article/view/633
---
License
This work is licensed under a Creative Commons Attribution-NonCommercial 4.0 International License.
This work is licensed under a
Creative Commons Attribution-NonCommercial 4.0 International License
---
Most read articles by the same author(s)