Organoleptic and Antioxidant Activities of Tomato, Pontianak Orange, and Carrot Juice for Cancer Patients
---
---
Keywords:
antioxidants, fruits and vegetables, functional foods, cancer
---
Abstract
Cancer has become a leading cause of mortality worldwide, with approximately 8.2 million deaths attributed to the disease in 2012. Antioxidants have demonstrated potential in combating cancer, and natural sources rich in vitamins, such as fruits and vegetables, are believed to be beneficial. This study aims to assess the chemical and organoleptic qualities of fruit and vegetable juice (tomatoes, Pontianak oranges, and carrots) as functional food for cancer patients. The study used an experimental design with a Complete Randomized Design (CRD) approach, with distinct processing techniques for each treatment level, and three replications were conducted. Data collection involved hedonic scale tests by 20 panelists to evaluate organoleptic quality, spectrophotometric tests to measure vitamin C levels, and DPPH tests to assess antioxidant activity. The results show that the processing of fruit and vegetable juice does not significantly influence vitamin C levels, aroma, or texture (p = 0.50). However, it has a significant effect on antioxidant levels, color, and taste of the juice (p=0.007).
---
References
Aisyah, Y., Rasdiansyah, R., & Muhaimin, M. (2014). Pengaruh pemanasan terhadap aktivitas antioksidan pada beberapa jenis sayuran. Jurnal Teknologi dan Industri Pertanian Indonesia, 6(2).
Baradero, S.M dan Siswadi, Y. Klien Kanker: Seri Asuhan Keperawatan. Penerbit Buku Kedokteran EGC, Jakarta; 2005
Damayanti, E. T., & Kurniawati, P. (2017, November). Perbandingan metode penentuan vitamin C pada minuman kemasan menggunakan metode spektrofotometer UV-Vis dan iodimetri. In dalam Seminar Nasional Kimia dan Pembelajarannya, Malang (Vol. 41).
Fadil, S., Su'i, M., & Sudiyono, S. (2016). Pengaruh Pateurisasi dan Sterilisasi Terhadap Kualitas dan Lama Penyimpanan Sari Ubi Jalar Ungu (Ipomoea batatas L.). Agrika, 10(1).
Felicia, N., Widarta, I. W. R., & Yusasrini, N. L. A. (2016). Pengaruh ketuaan daun dan metode pengolahan terhadap aktivitas antioksidan dan karakteristik sensoris teh herbal bubuk daun alpukat (Persea americana Mill.). Jurnal ITEPA, 5(2), 85-94.
Firdamayanti, E. (2017). Pengaruh pemanasan sari buah jeruk terhadap tingkat kehilangan vitamin c. Perbal: Jurnal Pertanian Berkelanjutan, 5(2), 31-36
Fitricia, I., Winarni, D., & I.B.R. Pidada. Pengaruh Pemberian Tomat (Solanum lycopersicum L.) Terhadap Histologi Kelenjar Mammae Mencit Yang Diinduksi 7,12-Dimetilbenz(Α)Antrasena (DMBA). Jurnal Matematika Dan Ilmu Pengetahuan Alam. 2012; 15(2), 52–56.
Hanani, E., Mun'im, A., & Sekarini, R. (2005). Identifikasi Senyawa Antioksidan dalam Spons Callyspongia sp. dari Kepulauan Seribu. Majalah Ilmu Kefarmasian, 2(3), 127-133.
Jiang, J., Shan, L., Chen, Z., Xu, H., Wang, J., Liu, Y., & Xiong, Y. (2014). Evaluation of antioxidant-associated efficacy of flavonoid extracts from a traditional Chinese medicine Hua Ju Hong (peels of Citrus grandis (L.) Osbeck). Journal of Ethnopharmacology, 158, 325-330.
Kementrian Kesehatan RI. (2019). Artikel Hari Kanker Sedunia 2019.https://www.depkes.go.id/art icle/view/19020100003/harikanker-sedunia-2019.html
Kusmardika, D. A. (2020). Potensi aktivitas antioksidan daun kelor (Moringa oleifera) dalam mencegahan kanker. Journal of Health Science and Physiotherapy, 2(1), 46-50.
Maharani, A. I., Riskierdi, F., Febriani, I., Kurnia, K. A., Rahman, N. A., Ilahi, N. F., & Farma, S. A. (2021). Peran Antioksidan Alami Berbahan Dasar Pangan Lokal dalam Mencegah Efek Radikal Bebas. In Prosiding Seminar Nasional Biologi (Vol. 1, No. 2, pp. 390-399).
Novaldy, R., & Iyos, R. N. (2016). Pengaruh Tomat (Solanum lycopersicum) dalam Pengurangan Risiko Karsinoma Prostat. Jurnal Majority, 5(5), 150-154.
Nurani, 2012. Ragam Manfaat Wortel, (Online), (http://health.okezone.com/read/201210/03/483/698691/ragam-manfaat- wortel, diakses 21 Pebruari 2013).
Octaviani, L. F., & Rahayuni, A. (2014). Pengaruh berbagai konsentrasi gula terhadap aktivitas antioksidan dan tingkat penerimaan sari buah buni (Antidesma bunius) (Doctoral dissertation, Diponegoro University).
Rawson, N. E., Ho, C. T., & Li, S. (2014). Efficacious anti-cancer property of flavonoids from citrus peels. Food Science and Human Wellness, 3(3-4), 104-109.
Riskesdas. 2013. Penyakit Tidak Menular. Badan Penelitian dan Pengembangan Kesehatan Kemenkes RI, Jakarta
Royston, K. J., & Tollefsbol, T. O. (2015). The epigenetic impact of cruciferous vegetables on cancer prevention. Current pharmacology reports, 1, 46-51.
Winarno FG. Kimia pangan dan gizi. Jakarta: PT. Gramedia Pustaka Utama. 2004
World Health Organization. 2018. Cancer. Swiss
---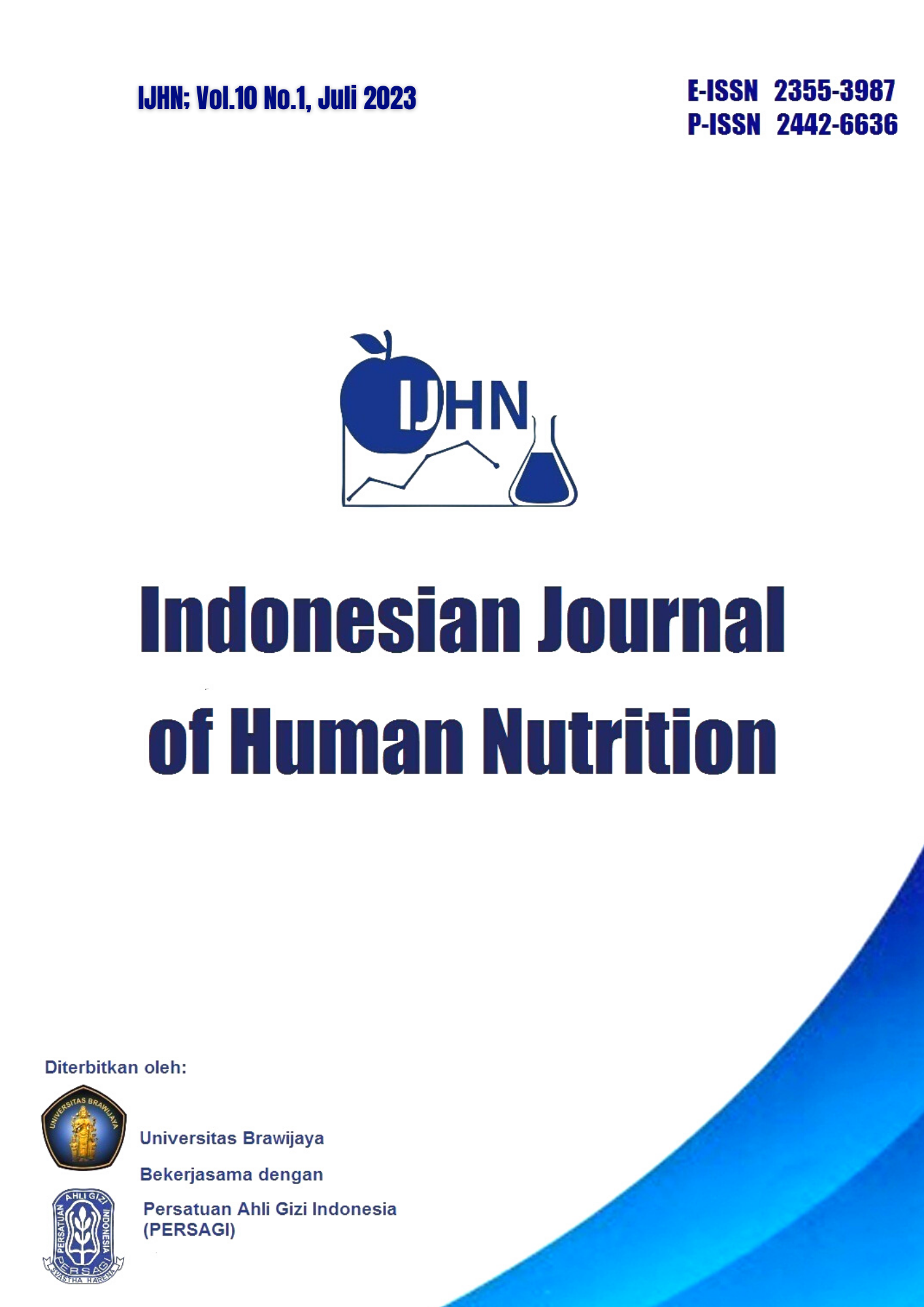 ---
Downloads
---
How to Cite
1.
Rahman N, Khairuddin K, Fasha Shaninditha A, Ayuningtyas Mirah Pradnya Dewi NP, Dwi Ayu Faradina A. Organoleptic and Antioxidant Activities of Tomato, Pontianak Orange, and Carrot Juice for Cancer Patients. IJHN [Internet]. 2023 Jul. 6 [cited 2023 Dec. 6];10(1):88-97. Available from: https://ijhn.ub.ac.id/index.php/ijhn/article/view/639
---
License
This work is licensed under a Creative Commons Attribution-NonCommercial 4.0 International License.
This work is licensed under a
Creative Commons Attribution-NonCommercial 4.0 International License
---
Most read articles by the same author(s)