Peer Tutoring on Fish and Vegetables-Based Diet Education to Prevent Anemia and Hypoalbuminemia in Adolescents
---
---
Keywords:
diet, peer tutor, anemia, albumenia, adolescent
---
Abstract
Early detection of nutritional problems is a vital skill for individuals as it enables timely prevention before any symptoms arise. This skill can be fostered through enhancing knowledge, practicing skills via educational activities and mentoring, and seeking support from peers who share similar challenges. This study aims to investigate the impact of peer tutoring on the development of a balanced menu and healthy snack consumption based on fish and vegetables among 11th-grade female students at a state high school in Singosari, Malang Regency. This study examined the effect of these interventions on the intake of energy, protein, and iron among the participants. Data were gathered by collecting food consumption data using the 24-hour food recall method and measurement of weight, height, Hb, and Albumin levels. The study employed a purposive sampling technique by conducting pretest, intervention, and post-test. The results showed significant improvements in the health indicators of the participants, including knowledge, intake, Hb, and Albumin levels (p=0.000; α=0.005). These findings demonstrate the potential of education and mentoring through peer tutoring in promoting healthy eating habits and preventing nutrition-related problems among female adolescents.
---
References
Adriani, M., & Wirjatmadi, B. (2012). Pengantar Gizi Masyarakat (kedua). Kencana Prenada Media Group. https://opac.perpusnas.go.id/DetailOpac.aspx?id=860987
Apriyanti, F. (2019). Hubungan Status Gizi Dengan Kejadian Anemia Pada Remaja Putri SMAN 1 Pangkalan Kerinci Kabupaten Pelalawan Tahun 2019. Jurnal Doppler Universitas Pahlawan Tuanku Tambusai, 3(2), 18–21. https://journal.universitaspahlawan.ac.id/index.php/doppler/article/view/429
Aulia, N. (2019). No TitlNikmah Aulia, 2019. Perbedaan Rerata Kadar Albumin Pada Balita Stunting dan Non-Stunting di Kecamatan Gunung Sugih Kabupaten Lampung Tengah. Universitas Lampung.
BAPPENAS, B. P. P. N. (2006). Rencana Aksi Nasional Pangan dan Gizi 2011-2015. https://jdih.bappenas.go.id/peraturan/detailperaturan/454
Choudhary, S., Saluja, N., Sharma, S., Dube, S., S.M. Pandey, S. ., & Kumar, A. (2015). Association of energy balance and protein intake with nutritional status of adolescent girls in a rural area of Haryana. Journal of Evolution of Medical and Dental Sciences, 4(1). https://go.gale.com/ps/i.do?id=GALE%7CA468334740&sid=googleScholar&v=2.1&it=r&linkaccess=abs&issn=22784748&p=AONE&sw=w&userGroupName=anon~9b39406d&aty=open+web+entry
Damayanti, D. (2017). Buku Ilmu Gizi Teori Dan Aplikasi. In Hardinsyah & D. Nyoman Supariasa (Eds.), Buku Ilmu Gizi Teori Dan Aplikasi. Penerbit Buku Kedokteran EGC. https://scholar.google.co.id/citations?view_op=view_citation&hl=id&user=DbnR1LkAAAAJ&citation_for_view=DbnR1LkAAAAJ:ufrVoPGSRksC
Fajri, U. N., Hadisaputro, S., & Soejoenoes, A. (2020). Ekstrak Ikan Gabus (Channa Satria) untuk Meningkatkan Kadar Hemoglobin pada Ibu Nifas Anemia di RSUD Hj. Anna Lasmanah Banjarnegara. Medsains, 6(02), 37–41. http://download.garuda.kemdikbud.go.id/article.php?article=2987641&val=26817&title=ESTRAK IKAN GABUS CHANNA STRIATA UNTUK MENINGKATKAN KADAR HEMOGLOBIN PADA IBU NIFAS ANEMIA DI RSUD HjANNA LASMANAH BANJARNEGARA
Karnila, R., Mahardika, N., & Edison. (2017). Analisis Komposisi Kimia Daging dan Tepung Ikan Gabus (Channa striata). Jurnal, 1–8. https://jom.unri.ac.id/index.php/JOMFAPERIKA/article/viewFile/17499/16903
Kemenkes. (2014). Peraturan Menteri Kesehatan Republik Indonesia Nomor 41 Tahun 2014. Applied Microbiology and Biotechnology. https://peraturan.bpk.go.id/Home/Details/119080/permenkes-no-41-tahun-2014
Kemenkes. (2016). Pedoman Pencegahan Dan Penanggulangan Anemia Pada Remaja Putri Dan Wanita Usia Subur (WUS). Kementrian Kesehatan Republik Indonesia. https://promkes.kemkes.go.id/download/fpcl/files99778Revisi Buku Pencegahan dan Penanggulangan Anemia pada Rematri dan WUS.pdf
Kristin, N., Jutomo, L., & Boeky, D. L. A. (2022). Hubungan Asupan Zat Gizi Besi Dengan Kadar Hemoglobin Remaja Putri. 1(3), 189–195. https://doi.org/10.54259/sehatrakyat.v1i3.1077
Lidiawati, M., Lumongga, N., & Anto. (2020). Faktor Yang Mempengaruhi Perilaku Makan pada Remaja Obesitas di SMA Kota Banda Aceh. Jurnal Aceh Mdedika, 4(1), 52–62. http://jurnal.abulyatama.ac.id/index.php/acehmedika
Nuryani, N., & Paramata, Y. (2018). Intervensi Pendidik Sebaya Meningkatkan Pengetahuan, Sikap, dan Perilaku Gizi Seimbang pada Remaja di MTsN Model Limboto. Indonesian Journal of Human Nutrition, 5(2), 96–112. https://doi.org/10.21776/ub.ijhn.2018.005.02.4
Oy, S., Witjaksono, F., Mustafa, A., Setyobudi, S. I., & Fahmida, U. (2019). Problem Nutrients in Adolescent Girls With Anemia Versus Nonanemic Adolescent Girls and the Optimized Food-Based Recommendations to Meet Adequacy of These Nutrients in Adolescent School Girls in East Java, Indonesia. Food and Nutrition Bulletin, 40(3), 295–307. https://doi.org/10.1177/0379572119851326
Pakhri, A., Gizi, J., Kesehatan, P., & Makassar, K. (2018). Kebutuhan Asupan Energi , Protein Dan Besi Pada Remaja. 39–43. https://journal.poltekkes-mks.ac.id/ojs2/index.php/mediakesehatan/article/view/97/39
Permaesih, D. (2005). Faktor yang Mempengaruhi Anemia pada Remaja. Buletin Penelitian Kesehatan, 33(4), 172–182. http://katalog.pustaka.unand.ac.id//index.php?p=show_detail&id=90203
Permaesih, D., & Susilowati, H. (2015). Faktor-faktor yang Mempengaruhi Anemia pada Remaja. In Buletin Penelitian Kesehatan (Vol. 33, Issue 4, p. 163). https://media.neliti.com/media/publications/20280-ID-faktor-faktor-yang-mempengaruhi-anemia-pada-remaja.pdf
Pou, L. La, Kapantow, N. H., & Punuh, M. I. (2015). Hubungan Antara Status Gizi Dengan Kejadian Anemia Pada Siswi SMP Negeri 10 Manado. Pharmacon, 4(4), 309–315.
Pujiatun, T. (2014). Hubungan Tingkat Konsumsi Energi Dan Protein Dengan KejadianKurang Energi Kronis (KEk) Pada Siswa Putri Di SMAMuhammadiyah 6 Surakarta [Universita Muhammadiyah Surakarta]. https://eprints.ums.ac.id/29989/1/03._Halaman_Depan.pdf
Suarjana, I. (2020). Kurang Energi Kronik (KEK) Remaja Putri Pelajar SMU/SMK dI Kabupaten Karangasem Propinsi Bali. Jurnal Sehat Mandiri, 15(1), 41–51. https://doi.org/10.33761/jsm.v15i1.106
Sulistyoningsih, H. (2011). Gizi untuk kesehatan ibu dan anak. Graha Ilmu. https://opac.perpusnas.go.id/DetailOpac.aspx?id=105556#
Supariasa, I., Bakri, B., & Fajar, I. (2012). Pendidikan dan Konsultasi Gizi. Penerbit Buku Kedokteran EGC:
---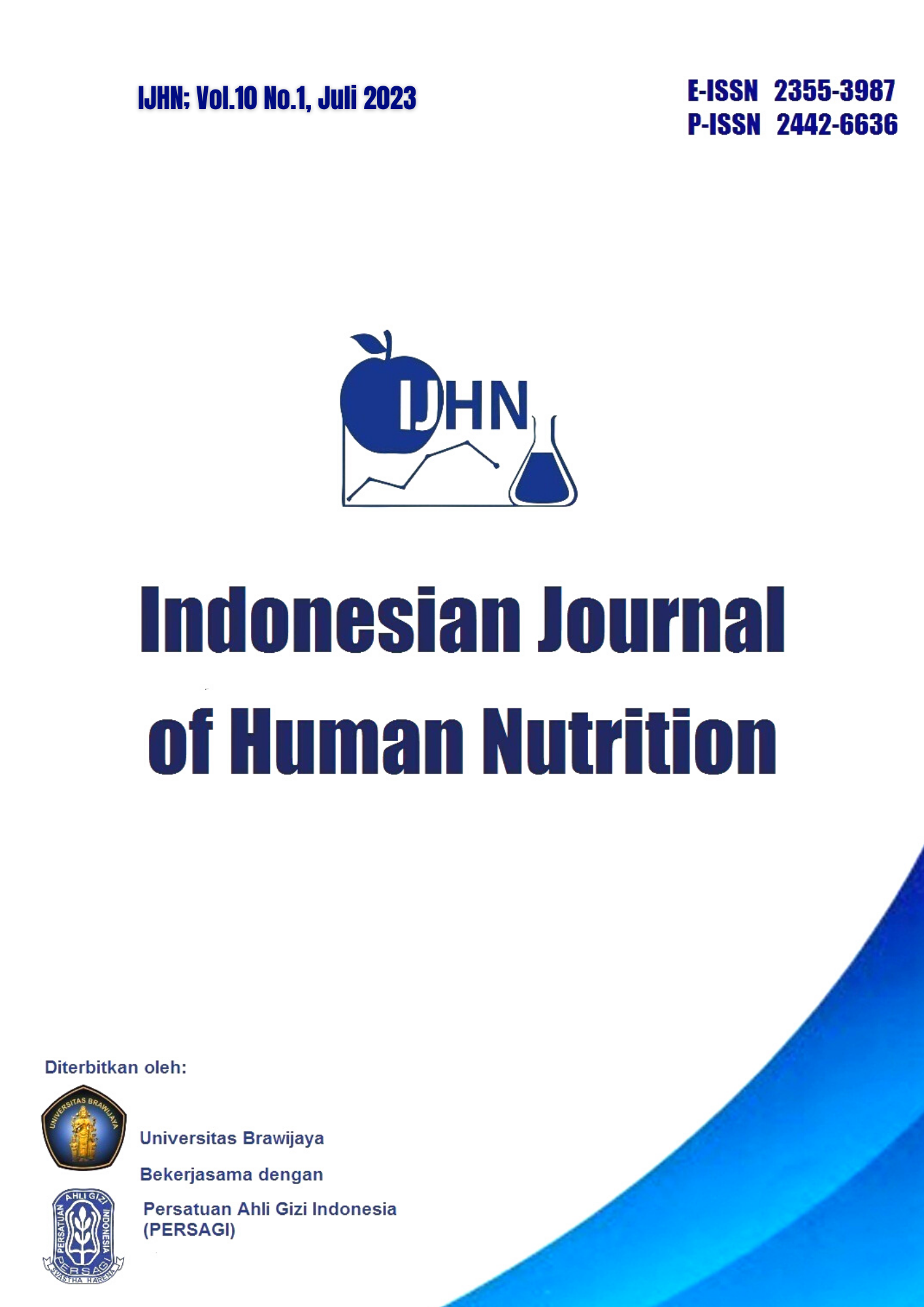 ---
Downloads
---
How to Cite
1.
Mustafa A, Widajati E, Halis F, Khairuddin K. Peer Tutoring on Fish and Vegetables-Based Diet Education to Prevent Anemia and Hypoalbuminemia in Adolescents. IJHN [Internet]. 2023 Jul. 6 [cited 2023 Dec. 6];10(1):68-76. Available from: https://ijhn.ub.ac.id/index.php/ijhn/article/view/692
---
License
This work is licensed under a Creative Commons Attribution-NonCommercial 4.0 International License.
This work is licensed under a
Creative Commons Attribution-NonCommercial 4.0 International License
---
Most read articles by the same author(s)
Chyntia Cahyawardani, Etik Sulistyowati, Endang Widajati, Carbohydrate and Fiber Intake on Fasting Blood Glucose Levels In Patients with Type 2 Diabetes Mellitus after Intervention of Brown Rice Diet , Indonesian Journal of Human Nutrition: Vol. 10 No. 1 (2023)
Nur Rahman, Khairuddin Khairuddin, Ajeng Fasha Shaninditha, Ni Putu Ayuningtyas Mirah Pradnya Dewi, Ary Dwi Ayu Faradina, Organoleptic and Antioxidant Activities of Tomato, Pontianak Orange, and Carrot Juice for Cancer Patients , Indonesian Journal of Human Nutrition: Vol. 10 No. 1 (2023)