Effect of Energy Restriction on Malondialdehyde Levels in Rats
---
---
Keywords:
Restriksi energi, Malondialdehid, Rattus Novergicus
---
Abstract
Elevated malondialdehyde (MDA) levels indicate the occurrence of cell membrane oxidation. Calorie restriction is known to extend life expectancy. This study aims to investigate the effect of calorie restriction on MDA levels in young and old rats. An experimental approach was employed using Rattus norvegicus Wistar strain as the experimental animals, with a pre-post-test control group design. A total of 28 white rats were included in this study and were divided into four groups. The control groups, Group A and Group B, received standard feed and unrestricted access to distilled water, while the treatment groups, Group C and Group D, were fed with a 40% reduction in calorie intake and distilled water. Data analysis was performed using SPSS 21.0 (SPSS, Inc., Chicago, IL) with a 0.05 significance level. The results showed a difference in MDA level changes between group B (control group) and group D (treatment group) (p<0.05). This study concludes that MDA levels are higher in the elderly compared to young rats, and a 40% calorie restriction can reduce MDA levels.
---
References
Briant T, Weinert,Timiras PS. Physiology Of Aging; Invited Review: Theories Of Aging', J ApplPhysiol, vol. 95. 2003. 1706–16
Mao C, et al, Associations between superoxide dismutase, malondialdehyde and all causemortality in older adults : a community-based cohort study', BMC Geriatrics, 2019. 104.
Harman D, The Free Radical theory of aging, Antioxid redox signal. 2003. 557-61
Winarsi H. Pembentukan Senyawa Oksigen Reaktif dan Radika Bebas: Antioksidan Alami & Radikal Bebas, Penerbit Kanisius, Yogyakarta. 2007
Pazil SNB. Perbandingan Aktivitas Antioksidan Ekstrak Daging Pisang Raja (Musa Aab "Pisang Raja") Dengan Vitamin A, Vitamin C, Dan Katekin Melalui Penghitungan Bilangan Peroksida. 2009.
Singh Z, et al. Use of malondialdehyde as biomarker for assessing ocidative stress in different disease pathologies : a review, Iran J Public Health, vol. 43. 2014. 7-16.
Robertson RP, et al.Perspective in Diabetes. Glucosa Toxicity in B-Cell : type 2 diabetes. Good Radicals gone bad and the glutathion connection, Diabetes, vol. 52. 2003. 581-7.
Anderson RM. The Calory Restriction paradigm. 2015 (Diunduh 11 Maret 2021). Available from: Biochemistr Society, http://www.biochemist.org
Chuan Suo et al. Effects of short- term calorie restriction on testicular morphology and antioxidant capacity in male rats, Animal husbandry and veterinary medicine. 2017.
Ilyasova et al. Effects of 2 years of caloric restriction on oxidative status assessed by urinary F2-isoprotanes:b the Calerie 2 randomized clinical trial, Aging Cell. 2018.17.
Harianja E, Widijanti A, Arsana PM, & Handono. Pengaruh restriksi kalori terhadap kadar hidrogen peroksida dan kadar glukosa darah pada tikus tua, Indonesian Journal of Clinical Pathology and Medical Laboratory, vol. 14, no. 1. .2018. 24-27.
Most J, Tosti V, Redman L, Fontana L. Calorie Restriction in Humans: an update, Ageing Research Review. 2016.
---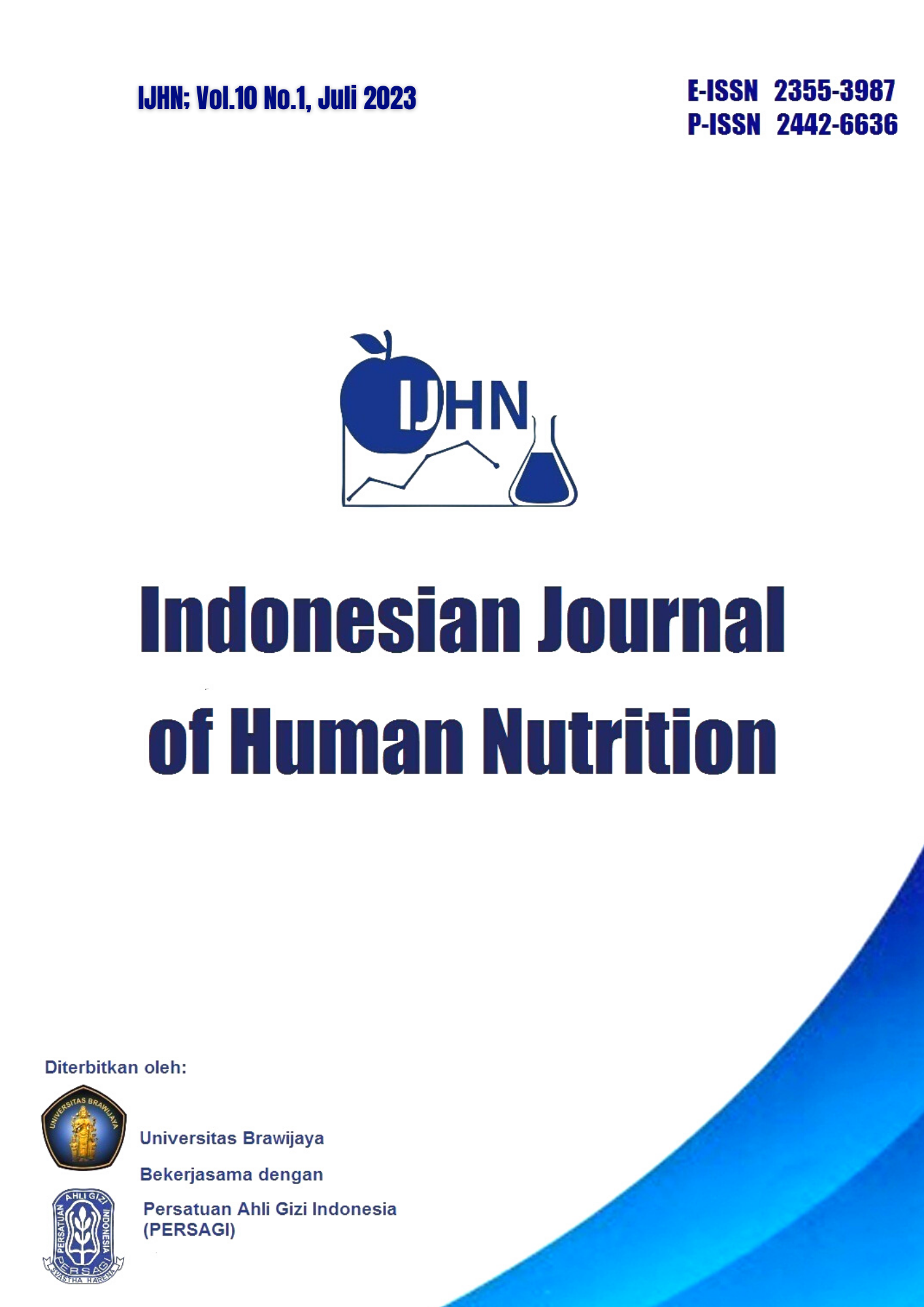 ---
Downloads
---
How to Cite
1.
Dirgahayu A millaty H, Aminuddin A, Santoso A, Astuti N, Yustisia I, Idris I. Effect of Energy Restriction on Malondialdehyde Levels in Rats. IJHN [Internet]. 2023 Jul. 6 [cited 2023 Dec. 6];10(1):51-8. Available from: https://ijhn.ub.ac.id/index.php/ijhn/article/view/612
---
License
This work is licensed under a Creative Commons Attribution-NonCommercial 4.0 International License.
This work is licensed under a
Creative Commons Attribution-NonCommercial 4.0 International License
---
Most read articles by the same author(s)