Penurunan hs-CRP Tikus Sprague dawley Jantan Setelah Pemberian Madu Hutan Apis Dorsata
Keywords:
Madu hutan Apis dorsata, hs-CRP, Tikus Sprague dawley jantan, Pakan Tinggi Lemak
Abstract
Pola konsumsi makanan berlemak berlebih menimbulkan berbagai gangguan metabolik dan inflamasi sistemik sehingga memicu peningkatan penanda inflamasi, yaitu high sensitivity C-Reactive Protein (hs-CRP). Madu hutan Apis dorsata mengandung antioksidan  tinggi, namun belum banyak penelitian mengenai aktifitas antioksidan madu hutan ini terhadap perubahan kadar hs-CRP di dalam darah.  Penelitian bertujuan untuk mengetahui pengaruh pemberian madu hutan Apis dorsata terhadap kadar serum hs-CRP tikus Sprague dawley jantan diinduksi pakan tinggi lemak (PTL). Rancangan penelitian yaitu pre-post test with control group design. 15 ekor tikus jantan Sprague dawley dibagi dalam tikus kelompok kontrol negatif (K-), kontrol positif (K+) diinduksi PTL,  dan perlakuan (P) diinduksi PTL + madu hutan Apis dorsata dosis 0,5 ml/200 g BB. Induksi PTL diberikan selama 30 hari dan madu selama 7 hari. Serum hs-CRP diambil dua kali, yaitu setelah pemberian PTL dan setelah pemberian madu, kemudian diukur menggunakan metode ELISA. Hasilnya menunjukkan kelompok tikus yang diberi PTL+intervensi madu hutan mengalami penurunan kadar hs-CRP yang signifikan (p=0,009). Hal ini menandakan efek antioksidan dan antiinflamasi pada madu hutan Apis dorsata dapat menurunkan kadar hs-CRP. Kesimpulannya, Madu hutan Apis dorsata dosis 0,5 ml/200 g BB mampu menurunkan kadar serum hs-CRP tikus Sprague dawley jantan yang diinduksi pakan tinggi lemak.
References
Dalal D, Robbins JA. Management of Hyperlipidemia in The Elderly Population: An Evidence-based Approach. South Med J. 2002; 95 (11): 1255-1262.
Bae JM, Yang YJ, Li ZM, Ahn YO. Low Cholesterol is Associated with Mortality from Cardiovascular Diseases: A Dynamic Cohort Study in Korean Adults. J Korean Med Sci. 2012; 27 (1): 58-63. doi:10.3346/jkms.2012.27.1.58.
World Health Organization. Cardiovascular Diseases (CVDs). Published 2018. Accessed June 30, 2021. https://www.who.int/news-room/factsheets/detail/cardiovascular-diseases-(cvds). WHO. Geneva: 2018.
Kemenkes RI. Hasil Riset Kesehatan Dasar Tahun 2018. Vol 53. Kemenkes. Jakarta; 2018.
Coelho DF, Pereira-Lancha LO, Chaves DS, D. Diwan, R. Ferraz, P.L. Campos-Ferraz, et al. Effect of High-Fat Diets on Body Composition, Lipid Metabolism and Insulin Sensitivity, and The Role of Exercise on These Parameters. Brazilian J Med Biol Res. 2011;44(10):966-972. doi:10.1590/S0100879X2011007500107
Peter W.F. Wilson. Obesity and Heart Disease. In: George A. Bray, ed. Handbook of Obesity Epidemiology, Etiology and Physiopathology. Vol 1. Third edition. CRC Press; 2014:515-522.
Thomas J. Oxidative stress and Oxidant Defense. In: A. Catharine Ross, ed. Modern Nutrition in Helath and Disease. Williams & Wilkins; 1999:751-760.
Singh T, Newman AB. Inflammatory markers in population studies of aging. Ageing Res Rev. 2011;10(3):319-329. doi:10.1016/j.arr.2010.11.002
Dewi YP. C-reactive protein (CRP ) Vs high-sensitivity CRP (hs-CRP).ResearchGate.2018;(September):5-7.
Kamath DY, Xavier D, Sigamani A, Pais P. High sensitivity C-reactive protein (hsCRP) & cardiovascular disease: An Indian perspective. Indian J Med Res. 2015;142(September):261-268. doi:10.4103/0971-5916.166582
Yaghoobi N, Al-Waili N, Ghayour-Mobarhan M, S.M.R. Parizadeh, Z. Abasalti, Z. Yaghoobi, et al. Natural honey and cardiovascular risk factors; effects on blood glucose, cholesterol, triacylglycerole, CRP, and body weight compared with sucrose. Sci World J. 2008;8:463-469. doi:10.1100/tsw.2008.64
Moniruzzaman M, Khalil MI, Sulaiman SA, Gan SH. Physicochemical and antioxidant properties of Malaysian honeys produced by Apis cerana, Apis dorsata and Apis mellifera. BMC Complement Altern Med. 2013;13(1):1. doi:10.1186/1472-6882-13-43
Getz GS, Reardon CA. Animal models of Atherosclerosis. Arterioscler Thromb Vasc Biol. 2012;32(5):1104-1115.
A WN, Z WM. Sample Size Calculation in Animal Studies Using Resource Equation Approach. 2017;24 (5):101-105. doi:10.1161/ATVBAHA.111.237693
Rista Y. Efektivitas Madu terhadap Peningkatan Hb pada Tikus Putih. Jesbio. 2014;III(5):7-13.
Antonioli L, Pellegrini C, Fornai M, et al. Colonic motor dysfunctions in a mouse model of high-fat diet-induced obesity: an involvement of A2B adenosine receptors. Purinergic Signal. 2017;13(4):497-510. doi:10.1007/s11302-017-9577-0
Puspitadewi IN, Margawati A, Wijayanti HS. Pengaruh Pemberian Sari Ubi Ungu (Ipomea batatas L.) terhadap Kadar High Sensitivity C-Reactive Protein (hs-CRP) pada Tikus Sprague Dawley dengan Pakan Tinggi Lemak. J Nutr Coll. 2018;7(4):155-161. doi:10.1038/184156a0
Nemoseck TM, Carmody EG, Furchner-Evanson A, et al. Honey promotes lower weight gain, adiposity, and triglycerides than sucrose in rats. Nutr Res. 2011;31(1):55-60. doi:10.1016/j.nutres.2010.11.002
Pai S, Shivappa C, Surendra A. Anti-obesity and Anti-hyperlipidemic activity of Processed Honey - A Randomised, Open labeled, Controlled Clinical Study. J Res Tradit Med. 2018;4(2):40. doi:10.5455/jrtm.2018/816
Laboratorium Kimia Makanan Ternak Jurusan Nutrisi dan Makanan Ternak Fakultas Peternakan. Uji Analisis Kandungan Antioksidan & Vitamin Madu Hutan Apis dorsata. Universitas Hasanuddin, Makassar: 2021.
Meo SA, Al-Asiri SA, Mahesar AL, Ansari MJ. Role of honey in modern medicine. Saudi J Biol Sci. 2017;24(5):975-978. doi:10.1016/j.sjbs.2016.12.010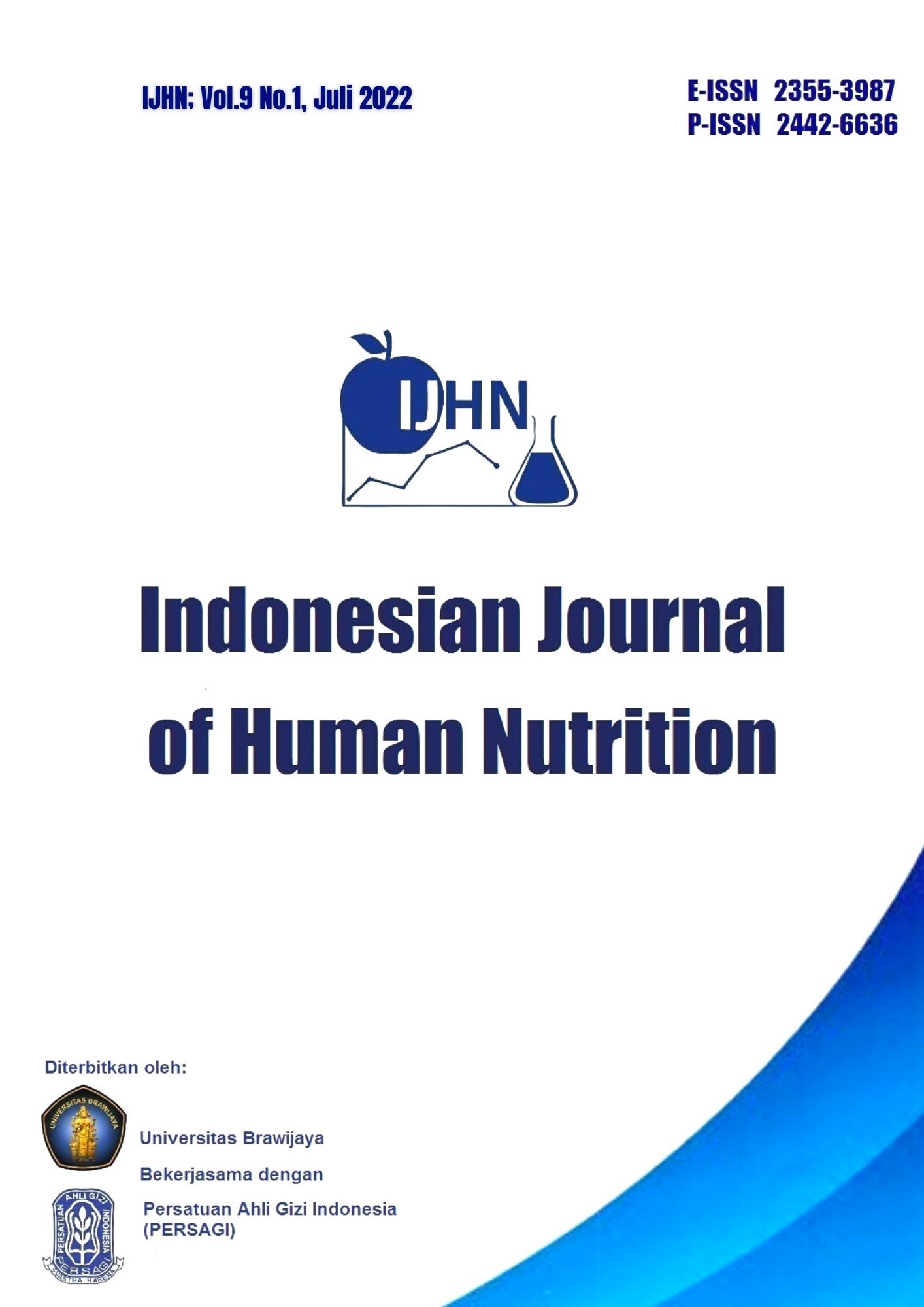 Downloads
Published
2022-07-30 — Updated on 2022-08-05
License
Copyright (c) 2022 Indonesian Journal of Human Nutrition
This work is licensed under a Creative Commons Attribution-NonCommercial 4.0 International License.
This work is licensed under a
Creative Commons Attribution-NonCommercial 4.0 International License