Kombinasi Pasteurisasi, Suhu, dan Masa Simpan Terhadap Kadar Aflatoksin pada Selai Kacang Tanah
Abstract
Abstrak
Selai kacang tanah merupakan salah satu komoditi lokal yang tinggi lemak dan protein sehingga dapat digunakan sebagai makanan tambahan untuk anak usia balita memenuhi kebutuhan gizi harian. Tetapi, jika pengolahan selai kacang tanah kurang tepat maka akan menyebabkan berpotensi terjadi pertumbuhan Aspergillus flavus yang dapat menyebabkan kadar aflatoksin >20 ppb sehingga menjadi tidak aman untuk dikonsumsi serta menye-babkan sirosis hepatis akut maupun kronis. Penelitian ini dilakukan untuk mengetahui apakah suhu dan waktu pasteurisasi mempunyai pengaruh pada peningkatan kadar aflatoksin selai kacang tanah yang disimpan dalam jangka waktu 3 minggu. Rancangan penelitian menggunakan Nested Design 3 faktor. Faktor I, pembuatan selai kacang tanah (K1=tanpa pasteurisasi, K2=pasteurisasi 71oC, 10 menit, K3=pasteurisasi 80oC,1 menit), setiap kelompok terdiri dari 3 kali ulangan. Faktor II, waktu penyimpanan dalam minggu (M0, M1, M2, dan M3). Faktor III, suhu simpan (T1=suhu kamar, T2=suhu dingin). Pengujian kadar aflatoksin menggunakan metode ELISA. Hasil penelitian menunjukkan terdapat perbedaan kadar aflatoksin yang signifikan (p=0.001) pada selai kacang tanah yang diberi perlakuan tanpa pasteurisasi dan dengan pasteurisasi. Terjadi peningkatan kadar aflatoksin pada selai kacang tanah setelah di simpan 3 minggu, yang berkisar antara 6.035 – 7.196 ppb. Dapat disimpulkan bahwa pasturisasi 80oC, 1 menit dan suhu simpan dingin selama 3 minggu dapat memperlambat pembentukan aflatoksin pada selai kacang tanah. Selai kacang tanah masih aman di konsumsi dalam jangka waktu 3 minggu, karena kadar aflatoksin masih di bawah <20 ppb.
Kata Kunci: selai kacang tanah; aflatoksin; pasteurisasi; suhu kamar, suhu dingin
 Abstract
Peanut butter is one of the local high-fat commodities and protein that can be used as an additional food for children aged under five to meet daily nutritional needs. On the other hand, if the processing of peanut butter quite right, it will cause the growth of Aspergillus flavus potentially occur which can cause levels of aflatoxin peanut butter >20 ppb to be unsafe for consumption because it can cause acute and chronic hepatic cirrhosis. This study was conducted to determine whether temperature and pasteurization time had an effect on increasing aflatoxin content of peanut butter which was stored in 3 weeks period. The research design using Nested Design 3 factors. The first factor, the manufacture of peanut butter (K1=without pasteurization, K2=pasteurization 71°C, 10 min, K3=pasteurization 80°C, 1 minute), each group consisting of 3 repetitions. Factor II, storage time in weeks (M0, M1, M2, and M3). Factor III, temperature store (T1=room temperature, T2=cold temperature). Testing of aflatoxin content using ELISA method. The results showed a significant difference in the levels of aflatoxin (p=0.001) in the peanut butter-treated unpasteurised and pasteurized. Increased levels of aflatoxin in peanut butter after saving 3 weeks, around 6.035 – 7.196 ppb.. It can be concluded that pasteurization 80°C, 1 minute and cold store temperature for 3 weeks to slow the formation of aflatoxin in peanut butter. Peanut butter is still safe in consumption within 3 weeks, because aflatoxin levels are still below <20 ppb.
Keywords: peanut butter; aflatoxin; pasteurization; room temperature; cold temperature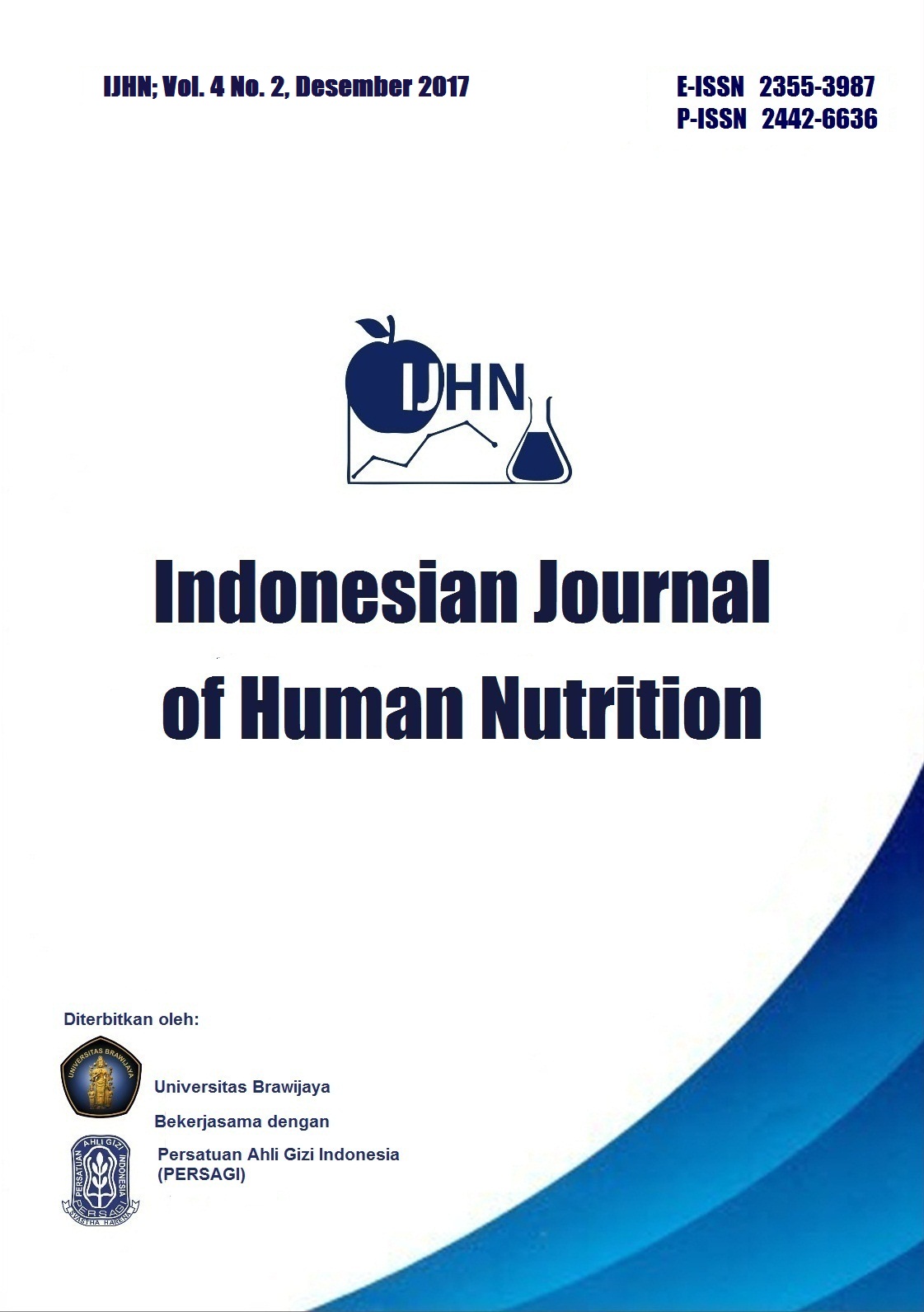 Downloads
License
This work is licensed under a
Creative Commons Attribution-NonCommercial 4.0 International License