Hubungan Indonesian's Healthy Eating Index dengan Biomarker Sindrom Metabolik pada Penderita Penyakit Jantung Koroner (PJK)
Keywords:
coronary heart disease, food consumption, healthy eating index, metabolic syndrome
Abstract
ABSTRAKPenilaian konsumsi pangan dengan metode Healthy Eating Index (HEI) belum banyak dilakukan di Indonesia. Tujuan penelitian adalah untuk menganalisis hubungan HEI versi Indonesia dengan biomarker Sindrom Metabolik (SM) pada penderita Penyakit Jantung Koroner (PJK). Penelitian ini menggunakan data Studi Kohor Faktor Risiko Penyakit Tidak Menular periode tahun 2013-2016. Ditemukan sebanyak 124 kasus baru PJK berdasarkan pengukuran EKG. Pengukuran konsumsi pangan menggunakan konsumsi pangan 1x24 jam setahun sebelum subjek didiagnosa PJK. Penilaian kualitas diet dengan metode US-HEI yang dimodifikasi berdasarkan jumlah porsi pada pedoman gizi seimbang Indonesia. Data biomarker SM yang digunakan meliputi tekanan darah, glukosa darah puasa (GDP), glukosa darah pasca pembebanan (GD2PP), High Density Lipoprotein (HDL), Low Density Lipoprotein (LDL) dan trigliserida yang diukur pada saat pertama kali didiagnosis PJK. Rata-rata skor HEI yaitu 58.6, dan sebanyak 1.6% subjek termasuk kategori baik. Komponen HEI yaitu minuman berpemanis berhubungan signifikan dengan GDP (r=0.271), GD2PP (r=0.191), HDL (r=-0.200) (p<0.05); sedangkan skor Polyunsaturated Fatty Acid (PUFA) berhubungan signifikan dengan HDL (r=0.219) (p<0.05). Hasil studi mengonfirmasi kembali bahwa dalam program pencegahan PJK sebaiknya diikuti dengan mengurangi asupan gula dan meningkatkan konsumsi pangan sumber PUFA.Kata kunci:  healthy eating index, konsumsi pangan, penyakit jantung koroner, sindrom metabolikABSTRACTThe food consumption assessment using the Healthy Eating Index (HEI) method has not been widely applied in Indonesia. This study aimed to analyze the relationship between the Indonesian version of HEI and Metabolic Syndrome (MetS) biomarkers on coronary heart disease (CHD) patients. This study used data from the Cohort Study of Non-Communicable Disease Risk Factors for the 2013-2016 period. There were 124 new cases of CHD based on ECG measurements. The measurement of food consumption used a 24-hour dietary recall a year prior to the CHD diagnosis. The diet quality assessment was done using the modified US-HEI method based on the number of servings in the Indonesian balanced nutrition guidelines. Data on MetS biomarkers were blood pressure, Fasting Blood Glucose (FBG), Postprandial Blood Glucose (PBG), High-Density Lipoprotein (HDL), Low-Density Lipoprotein (LDL), and triglycerides at the time of the CHD diagnosis. The mean HEI score was 58.6, and 1.6% of patients were in good categories. The HEI component, sugar-sweetened beverage, was significantly associated with FBG (r=0.271), PBG (r=0.191), HDL (r=-0.200) (p<0.05); meanwhile, Polyunsaturated Fatty Acid (PUFA) score was significantly associated with HDL (r=0.219) (p<0.05). These results confirm that CHD program prevention is better followed by reducing sugar intake and increasing PUFA food sources.Keywords: coronary heart disease, food consumption, healthy eating index, metabolic syndrome 
References
World Health Organization. Cardiovascular Disease (CVDs) [Dokumen di Internet]. Geneva: WHO; 2016 (Diunduh 5 Februari 2020). Available from: www.who.int/cardiovascular_diseases/en/.
Kemenkes.Hasil Survei Sampel Registrasi Sistem (SRS) 2014. Jakarta (ID) : Kementrian Kesehatan Republik Indonesia; 2014.
Alberti KGMM, Eckel RH, Grundy SM, Zimmet PZ, Cleeman JI, Donato KA, et al. Harmonizing the metabolic syndrome: a joint interim statement of the International Diabetes Federation Task Force on Epidemiology and Prevention; National Heart, Lung, and Blood Institute; American Heart Association; World Heart Federation; International Atherosclerosis Society; and International Association for the Study of Obesity. Circulation. 2009; 120(16): 1640-645.
Daoud E, Scheede BC, Bergdahl A. Effects of dietary macronutrients on plasma lipid levels and the consequence for cardiovascular disease. J Cardiovasc Dev Dis. 2014; 1(3): 201-13.
Sun GZ, Li Z, Guo L, Zhou Y, Yang HM, Sun YX. High prevalence of dislipidemia and associated risk factors among rural Chinese adults. Lipids in Health and Disease. 2014; 13(189):1-11.
Johnston C. Functional food as modifiers of cardiovascular disease. Am J Lifestyle Med. 2009; 3(1):39S-43S.
Threapleton DE, Greenwood DC, Evans EL, Cleghorn CL, Nykjaer C, Woodhead C, et al. Dietary fibre intake and risk of cardiovascular disease : systematic review and meta-analysis. BMJ. 2013; 347 (1):6879-880.
Souza RJ, Mente A, Maroleanu A, Cozma AI, Ha V, Kishibe T, et al. Intake of saturated and trans unsaturated fatty acids and risk of all cause mortality, cardiovascular disease, and type 2 diabetes: systematic review and meta-analysis of observational studies. BMJ. 2015; 351(8): 3978-994.
Mosher AL, Pjercy KL, Webber BJ, Goodwin SK, Casavale KO, Olson RD. Dietary guidelines for Americans.Am J Lifestyle Med. 2016; 10(1):23-35.
Chiuve SE, Fung TT, Rimm EB, Hu FB, McCullough ML, Wang M, et al. Alternative dietary indices both strongly predict risk of chronic disease. J Nutr. 2012; 142(6):1009-18.
Oemiati R, Rustika. Faktor risiko penyakit jantung koroner (PJK) pada perempuan (baseline study kohor faktor risiko PTM). Buletin Penelitian Kesehatan. 2015; 18(1):47-55.
Pradono J, Werdhasari A. Faktor determinan penyakit jantung koroner pada kelompok umur 25-65 tahun di Kota Bogor, data kohor 2011-2012. Buletin Penelitian Kesehatan.2018; 46 (1): 23-34.
Hilary M, Schwandt, Josef C, Michelle J. Marital status, hypertension, coronary heart disease, diabetes, and death among african american women and men: incidence and prevalence in the atherosclerosis risk in communities (aric) study participants. J Fam. 2010; 31(9): 1211-229.
Messner B, Bernhard D.Smoking and cardiovascular disease: mechanisms of endothelial dysfunction and early atherogenesis. Arterioscler Thromb Vasc Biol. 2014;34(3):509-15.
Waloya T, Rimbawan, Andarwulan N. Hubungan antara konsumsi pangan dan aktifitas fisik dengan kadar kolesterol darah pria dan wanita dewasa di Bogor. J Gizi Pangan. 2013; 8(1):9-16.
Lee S, Harnack L, Jacobs DR, Steffen LM, Luepker RV, Arnett DK. Trends in diet quality for coronary heart disease prevention between 1980-1982 and 2000-2002 : the minnesota heart survey. J Am Diet Assoc. 2007; 107(2): 213-22.
Zahara F, Syafri M, Yerizel E. Gambaran profil lipid pada pasien sindrom koroner akut di rumah sakit khusus jantung Sumatera Barat tahun 2011-2012. Jurnal Kesehatan Andalas. 2013; 3 (2): 167-72.
Fidalgo AS, Vollenweider P. No association between dietary marker and incident hypertension in a population-based sample. Clinical Nutrition Espen. 2018; 8(28): 208-13.
Bonaccio M, Di CA, Costanzo S, De LF, Olivieri M, Donati MB, et al. Nutrition knowledge is associated with higher adherence to Mediterranean diet and lower prevalence of obesity. Results from the Moli-sani study. Appetite. 2013; 68:139-46.
Fung TT, Pan A, Hou T, Chiuve SE, Tobias DK, Mozaffarian D, et al. Long term change in diet quality is associated with body weight change in men and women.J Nutr. 2008; 145(8): 1850-56.
Wang Z, Adair LS, Cai J, Larsen PG, Riz AMS, Zhang B, et al. Diet quality is linked to insulin resistance among adults in China. J Nutr.2017; 147(11): 2102-08.
Gopinath B, Rochtchina E, Flood VM, Mitchell P. Diet quality is prospectively associated with incident impaired fasting glucose in older adult. Diabet Med. 2011; 30(5): 557-62.
Kemenkes. Hasil Survei Konsumsi Makanan Individu (SKMI) 2014. Jakarta (ID) : Kementrian Kesehatan Republik Indonesia; 2014.
Nicklas TA, O'Neil CE, Fulgoni VL 3rd. Diet quality is inversely related to cardiovascular risk factors in adults. J Nutr. 2012; 142(12):2112-118.
Araghi MH, Hassan MK, Kourosh J, Alireza E, Alipasha M, Sara M. Comparison of healthy eating index between individuals with and without metabolic syndrome. IJDO. 2012; 4(3):99-104.
Sonestedt E, Hellstrand S, Drake I, Schulz CA, Ericson U, Hlebowicz J, et al. Diet quality and change in blood lipids during 16 years of follow up and their interaction with genetic risk for dyslipidemia. Nutrients. 2016; 8(5):274.
Djousse L, Arnett DK, Coon H, Province MA, Moore LL, Ellison RC. Fruit adn vegetable consumption and LDL cholesterol: the national heart, lung, adn blood institute family heart study. Am J Clin Nutr. 2004; 79(2): 213-17.
Yu Z, Ley SH, Sun Q, Hu FB, Malik VS. Cross sectional association between sugar sweetened beverage intake and cardiometabolic biomarkers in US. Br J Nutr. 2018; 119(5): 570-80.
Teshima N, Shimo M, Miyazawa K, Konegawa S, Matsumoto A, Onishi Y, et al.Effects of sugar-sweetened beverage intake on the development of type 2 diabetes mellitus in subjects with impaired glucose tolerance: the Mihama diabetes prevention study. J Nutr Sci Vitaminol.2015; 61(1):14-19.
Harrington JM, Dahly DL, Fitzgerald AP, Gilthorpe MS, Perry IJ. Capturing changes in dietary patterns among older adults: a latent class analysis of an ageing Irish cohort. Public Health Nutr. 2014; 17(12): 2674-86.
Hert KA, Fisk PS, Rhee YS, Brunt AR. Decreased consumption of sugarâ€sweetened beverages improved selected biomarkers of chronic disease risk among US adults: 1999 to 2010. Nutr Res. 2014; 34(1): 58-65.
Dhingra R, Sullivan L, Jacques PF, Wang TJ, Fox CS, Meigs JB, et al. Soft drink consumption and risk of developing cardiometabolic risk factors and the metabolic syndrome in middleâ€aged adults in the community. Circulation. 2007; 116(5):480-88.
Yang Q, Zhang Z, Gregg EW, Flanders WD, Merritt R, Hu FB. Added sugar intake and cardiovascular diseases mortality among us adults. JAMA Intern Med. 2014; 174(4): 516-24.
Couch SC, Crandell J, King I, Peairs A, Shah AS, Dolan LM, et al. Associations between long chain polyunsaturated fatty acids and cardiovascular lipid risk factors in youth with type 1 daibetes: SEARCH Nutrition Ancillary Study. J Diabetes Complications. 2017; 31(1):67-73.
Leslie MA, Cohen DJA, Liddle DM, Robinson LE, Ma DWL. A review of the effect of omega-3 polyunsaturated fatty acids on blood triacylglycerol levels in normolipidemic and borderline hyperlipidemic individuals. Lipids Health Dis. 2015; 53(14): 1-18.
Shirkodaei, Niloofar. Association between diet quality and metabolic syndrome in overweight and obese postmenopausal women. [tesis]. Kanada: Universite de Montreal; 2010.
Bertrais S, Beyeme-Ondoua JP, Czernichow S, Galan P, Hercberg S, Oppert JM. Sedentary behaviors, physical activity, and metabolic syndrome in middle-aged French subjects. Obesity. 2005; 13 (5): 936-44.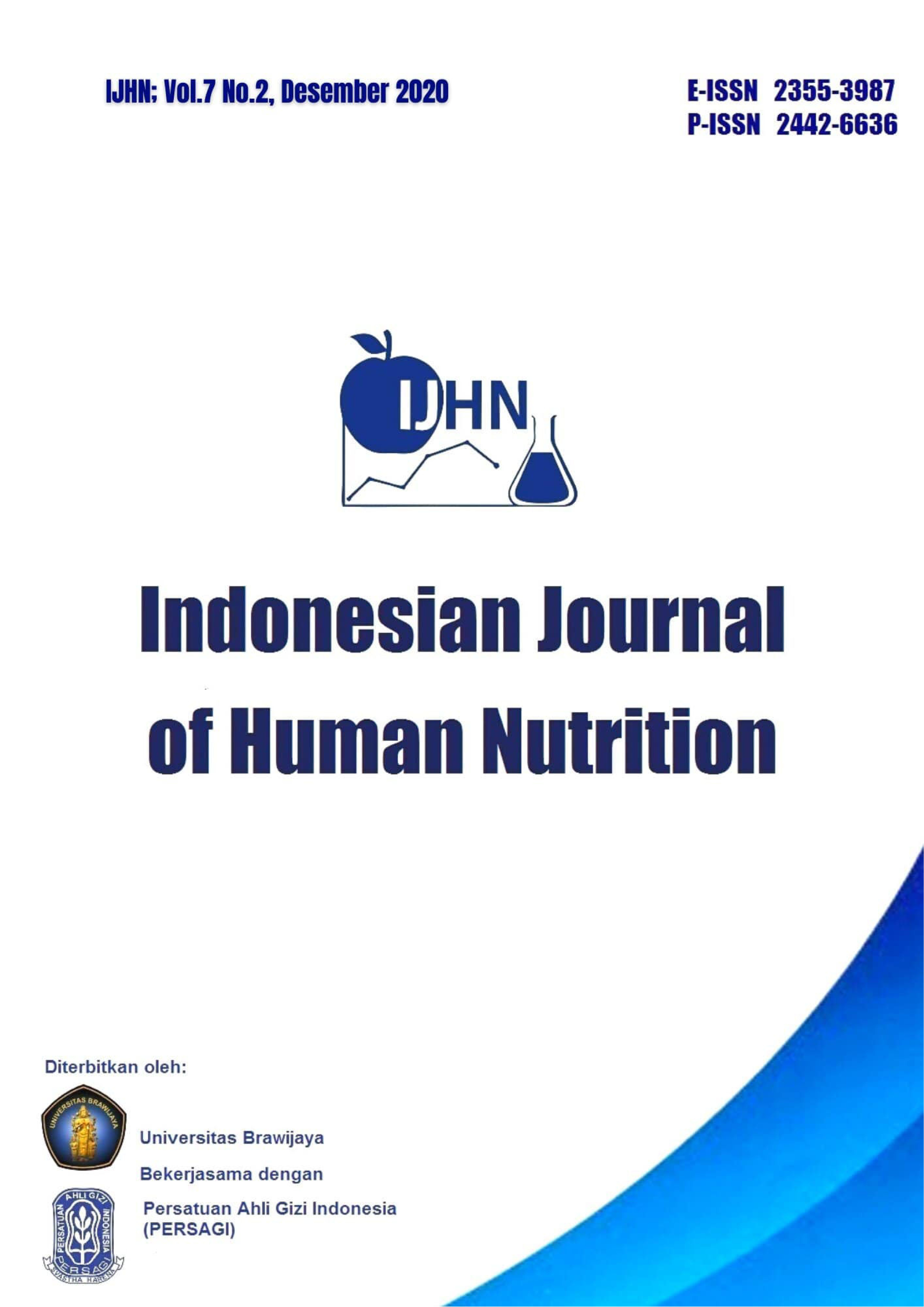 Downloads
License
This work is licensed under a
Creative Commons Attribution-NonCommercial 4.0 International License