PENGARUH DAUN UBI JALAR UNGU TERHADAP KADAR SUPEROKSID DISMUTASE TIKUS YANG DIPAPAR ASAP ROKOK (EFFECT OF PURPLE SWEET POTATO LEAVES ON SUPEROXIDE DISMUTASE LEVEL ON RATS EXPOSED TO CIGARETTE SMOKE)
Abstract
Abstrak
Superoksid Dismutase (SOD) merupakan suatu antioksidan enzimatik yang melindungi sel dari stres oksidatif dengan mengkatalisa dismutase dari superokside (O2-) menjadi O2 dan H2O2. Daun ubi jalar ungu atau Purple sweet potato leaves (PSPL) merupakan sejenis sayuran yang mengandung antioksidan polifenol yang cukup tinggi. Daun ubi jalar unggu dalam bentuk tepung memiliki kandungan polifenol 1805 mgGAE per 100 gram. Penelitian ini bertujuan untuk mengetahui pengaruh pemberian tepung PSPL terhadap kadar SOD hewan coba yang dipapar asap rokok. Hewan coba yang digunakan dalam penelitian adalah jenis Rattus novergicus strain wistar, jantan, usia 6-8 minggu dengan berat badan 140-250 gram serta dalam keadaan sehat selama penelitian dan tidak mendapat pengobatan sebelumnya. Hewan coba yang memenuhi kriteria inklusi diadaptasikan selama satu minggu kemudian dibagi menjadi 5 kelompok perlakuan yaitu tidak dipapar asap rokok (P0), dipapar asap rokok (P1), dan dipapar asap rokok dengan penambahan PSPL sebesar 0,07g (P2), 0,14g (P3), dan 0,28g (P4) selama 30 hari dalam bentuk tepung. Di akhir penelitian dilakukan pemeriksaan SOD serum dengan metode spektrofotometri. Hasil analisa menunjukkan adanya perbedaan yang signifikan antar kelompok perlakuan (ANOVA, p=0,000). Pemberian tepung PSPL dapat meningkatkan kadar SOD pada semua kelompok perlakukan. Semakin banyak dosis tepung PSPL yang diberikan pada penelitian ini maka kadar SOD semakin meningkat.
Kata kunci : daun ubi jalar ungu, kadar SOD, paparan asap rokok
 
Abstract
Superoxide Dismutase (SOD) is an enzymatic antioxidant that protects cells from oxidative stress by catalyzing dismutase from superoxide into O2 and H2O2. The purple sweet potato leave (Ipomoea batatas L. Lam) is a kind of vegetable plant that contains  high polyphenol which is about 1805 mgGAE on 100-gram edible portions. This research was aimed to determine the effect of purple sweet potato leaves powder in SOD levels that had been given to an animal model with cigarette smoke exposure. 6-8 week- male Rattus novergicus-wistar's strain was used in this experiment that weighed about 140-250 gram and the entire rats were in healthy condition and were never exposed to another treatment before. Firstly, the rats were prepared in one week which was then divided into 5 treatment groups, a group that had not been exposed to cigarette smoke (P0), cigarette smoke exposed (P1), and exposed to cigarette smoke with the addition PSPL flour treatment in varying doses: 0.07g (P2), 0.14g (P3), and 0.28g (P4) for 30 days. After that, SOD levels were measured with spectrophotometry method. The result shows that there was obviously a significant difference between the treatment groups (ANOVA, p=0.000). In short, it was found that the given PSPL dosages resulted in higher SOD's level.
Keywords
:, purple sweet potato leaves, Superoxide Dismutase level, cigarette smoking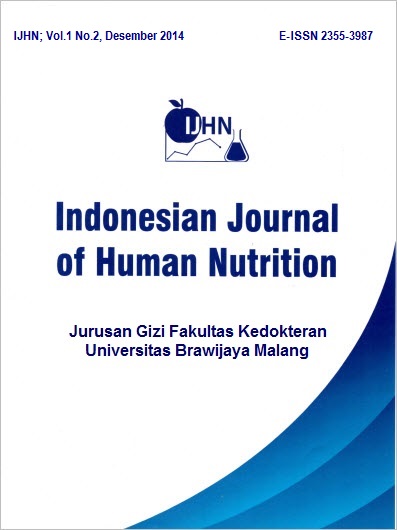 Downloads
License
This work is licensed under a
Creative Commons Attribution-NonCommercial 4.0 International License