In Vitro Evaluation of Cytotoxicity Effect of Ihau Fruit Extract (Dimocarpus longan var. Malesianus Leenh.) on MCF-7 Breast Cancer Cell Line
---
---
Keywords:
antioxidant, cancer, cytotoxicity, Ihau fruit, MTT assay
---
Abstract
Cancer prevalence is steadily increasing each year and becomes the second leading cause of death worldwide. In Indonesia, breast cancer had a prevalence of 16.7% in 2018. Free radicals contribute to the occurrence of breast cancer, while antioxidants play a vital role in protecting cells and repairing the damage caused by free radicals. Ihau, an endemic fruit in Kalimantan Island, contains phytochemical compounds with potential antioxidant and anticancer properties. Utilizing local food as natural antioxidants could serve as an alternative for breast cancer prevention and treatment. This study aims to assess the anticancer potential of Ihau fruit extract on the MCF-7 breast cancer cell line. A post-test-only control group design method using the MTT assay was used, with two treatment groups: water and 96% ethanol extract, and four different concentrations (125, 250, 500, and 1000 ppm), and each was replicated three times. Statistical analysis using the ANOVA test found no significant difference among all concentrations. The IC50 values of the cytotoxic activity of water and ethanol extracts were 1,197.7 ppm and 1,148 ppm, respectively. It can be concluded that both water and ethanol extract of Ihau fruit exhibited very weak cytotoxic activity.
---
References
Ferlay J, Ervik M, Lam F, Colombet M, Mery L, Piñeros M, et al. Global Cancer Observatory: Cancer Today. [Internet]. Lyon: International Agency for Research on Cancer; 2020 [cited 15 Sep 21]. Available from https://gco.iarc.fr/today.
Kementerian Kesehatan RI. Hasil Utama Riset Kesehatan Dasar 2018. Jakarta: Badan Penelitian dan Pengembangan Kesehatan Kementerian Kesehatan Republik Indonesia. 2018.
Kementerian Kesehatan RI. Panduan Penatalaksanaan Kanker Payudara. [Internet]. Jakarta: Kementerian Kesehatan Republik Indonesia; 2016 [cited 15 Sep 21]. Available from http://kanker.kemkes.go.id/guidelines/PPKPayudara.pdf?opwvc=1.
Rukinah. Gambaran Pengetahuan Wanita Usia Subur Tentang Pencegahan Kanker Payudara di Puskesmas Maccini Sawah Makassar 2019. Jurnal Farmasi Sandi Karsa 2019;5(1):84-89.
Tinoco G, Warsch S, Glück S, Avancha K, Montero AJ. Treating breast cancer in the 21st century: emerging biological therapies. Journal of Cancer. 2013;4(2):117.
Duerbeck NB, Dowling DD, Duerbeck JM. Vitamin C: Promises not kept. Obstetrical & gynecological survey. 2016;71(3):187-93.
Aksoy L, Kolay E, Ağılönü Y, Aslan Z, Kargıoğlu M. Free radical scavenging activity, total phenolic content, total antioxidant status, and total oxidant status of endemic Thermopsis turcica. Saudi journal of biological sciences. 2013;20(3):235-9.
Atta EM, Mohamed NH. Antioxidants: An overview on the natural and synthetic types. European Chemical Bulletin. 2017;6(8):365-75.
Sotyati. Buah Ihau alias Mata Kucing, Kelengkeng Asli Kalimantan. Artikel. [Internet]; 2019 [cited 1 Oct 2020]. Available from http://www.satuharapan.com/read-detail/read/buah-ihau-alias-mata-kucing-kelengkeng-asli-kalimantan.
Yang B, Jiang Y, Shi J, Chen F, Ashraf M. Extraction and pharmacological properties of bioactive compounds from longan (Dimocarpus longan Lour.) fruit—A review. Food Research International. 2011;44(7):1837-42.
Tamam B, Ashadi RW, Ramdani H. Optimasi Suhu Dan Waktu Pada Proses Pengeringan Manisan Cabai Merah Menggunakan Tunnel Dehydrator. Jurnal Pertanian. 2015;6 (1): 42-55.
Supomo, Supriningrum R, Junaid R. Karakterisasi Dan Skrining Fitokimia Daun Kerehau (Callicarpa Longifolia Lamk.). Jurnal Kimia Mulawarman. 2016;13(2): 89-96.
Handayani PA, Juniarti ER. Ekstraksi Minyak Ketumbar (Coriander Oil) Dengan Pelarut Etanol Dan n-heksana. Jurnal Bahan Alam Terbarukan. 2012;1(1): 1-7.
Widyanto RM, Putri JA, Rahmi Y, Proborini WD, Utomo B. Aktivitas Antioksidan dan Sitotoksisitas in vitro Ekstrak Metanol Buah Nanas (Ananas comosus) pada Sel Kanker Payudara T-47D. Jurnal Pangan dan Agroindustri. 2020; 8(2), 95-103.
Sitorus, Stevani. Uji Sitotoksisitas Ekstrak Etanol Angiopteris angustifolia C. Presl terhadap Kultur Sel Kanker Payudara (MCF-7 Cell Line) secara In Vitro. Skripsi. Fakultas Kedokteran dan Ilmu Kesehatan UIN Syarif Hidayatullah. Jakarta. 2013.
Widowati W, Widyanto RM, Laksmitawati DR, Erawijantari PP, Wijaya, L, Sandra F. Phytochemical, free radical scavenging and cytotoxic assay of Cucumis Melo L. extract and β-carotene. Journal of Advanced Agricultural Technologies. 2015;2(2): 114-119.
Sak K. Cytotoxicity of Dietary Flavonoids on Different Human Cancer Types. Pharmacogonosy Reviews. 2014;8(16):122-146.
Putri ZS, Wati RR, Widyanto RM, Rahmi Y, Proborini WD. Pengaruh Tepung Kulit Pisang Kepok (Musa Paradisiaca L.) terhadap Aktivitas Antioksidan dan Sitotoksisitas pada Sel Kanker Payudara T-47D. Jurnal Al-Azhar Indonesia Seri Sains Dan Teknologi. 2020;5(3): 166-174.
Sari LM. Apoptosis: Mekanisme molekuler kematian sel. Cakradonya Dental Journal. 2018;10(2):65-70.
Liu Y, Guo M. Studies on transition metal-quercetin complexes using electrospray ionization tandem mass spectrometry. Molecules. 2015;20(5):8583-94.
Sa'adah H, Nurhasnawati H. Perbandingan Pelarut Etanol Dan Air Pada Pembuatan Ekstrak Umbi Bawang Tiwai (Eleutherine americana Merr) Menggunakan Metode Maserasi. Jurnal ilmiah manuntung. 2017;1(2), 149-153.
Yang B, Zhu Q, Jiang Y, Lin S, Wen L, Wu D, Zhao M, Chen F, Jia Y. 2013. Structural Identification of (1→6)-α-D-Glucan, a Key Responsible for the Health Benefits of Longan, and Evaluation of Anticancer Activity. Biomacromolecules 14(6): 1999-2003.
Luo P, Liu Y, Liu L, Mo Y, Wei C, Lu L. Antioxidant activity of longan (Dimocarpus longan) barks and leaves. African Journal of Biotechnology. 2012;11(27): 7038-7045.
Handayani H, Sriherfyna FH, Yunianta Y. Ekstraksi Antioksidan Daun Sirsak Metode Ultrasonic Bath (Kajian Rasio Bahan: Pelarut Dan Lama Ekstraksi). Jurnal Pangan dan Agroindustri. 2016;4(1): 262-272.
---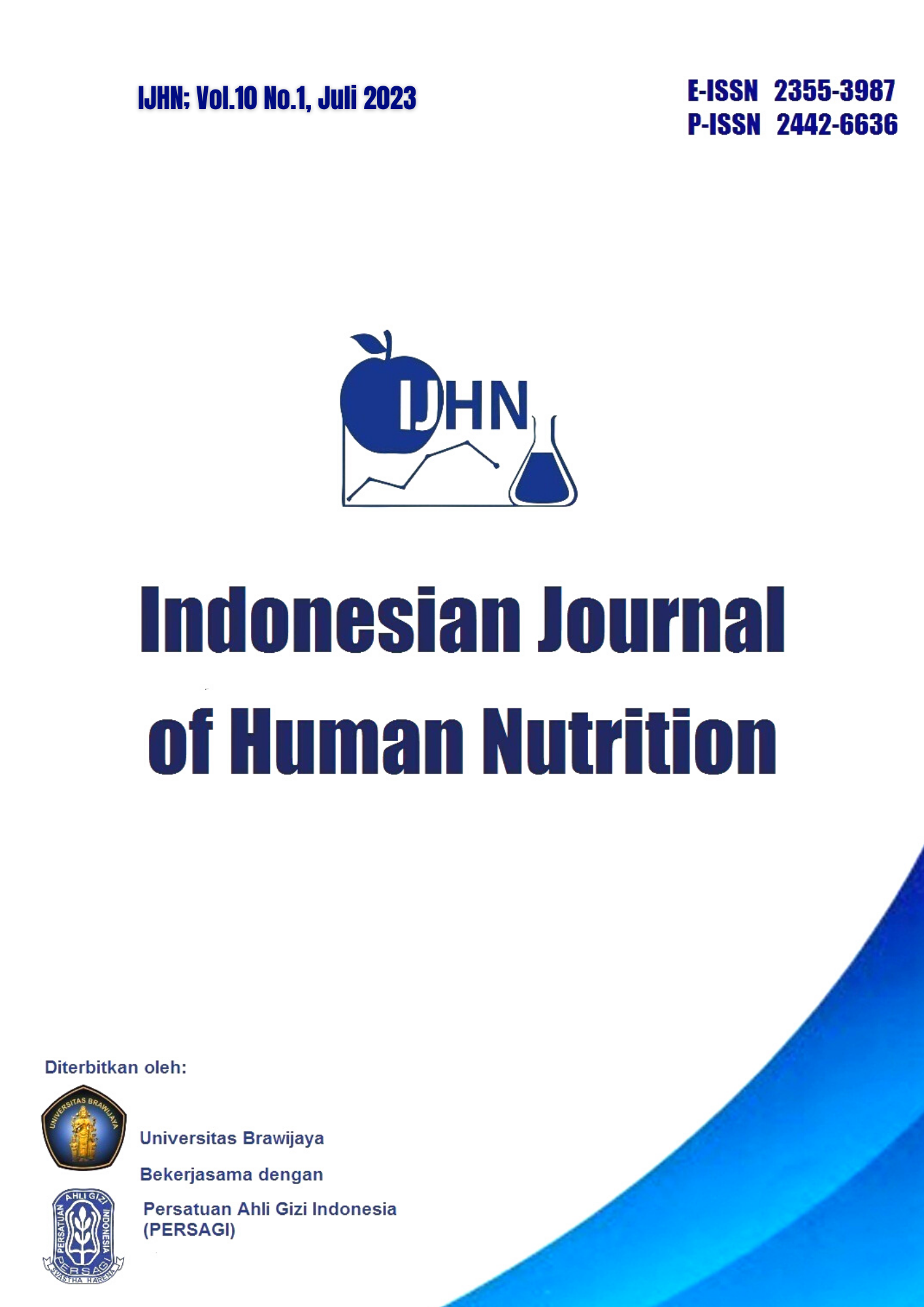 ---
Downloads
---
How to Cite
1.
Rahmawati IS, Dyanti GP, Widyanto RM, Maulidiana AR, Nabila W, Purwestri RC. In Vitro Evaluation of Cytotoxicity Effect of Ihau Fruit Extract (Dimocarpus longan var. Malesianus Leenh.) on MCF-7 Breast Cancer Cell Line. IJHN [Internet]. 2023 Jul. 6 [cited 2023 Dec. 6];10(1):59-67. Available from: https://ijhn.ub.ac.id/index.php/ijhn/article/view/682
---
License
This work is licensed under a Creative Commons Attribution-NonCommercial 4.0 International License.
This work is licensed under a
Creative Commons Attribution-NonCommercial 4.0 International License
---
Most read articles by the same author(s)
Eunike Cecilia Setiawan, Diyah Ayu Puspitasari, Shinta Kirana Rakhmani, Muhammad Naufal Rizqi Alfani, Arvin Wahyu Nor Imam, Rahma Micho Widyanto, Kandungan Gizi dan Uji Organoleptik Beras Analog Kedelai Edamame dan Rumput Laut , Indonesian Journal of Human Nutrition: Vol. 9 No. 1 (2022)
Rahma Micho Widyanto, Cleonara Yanuar Dini, Irma Sarita Rahmawati, Sekar Ramadhanti Putri, Amelia Nurdini Rozana, Sakinah Hilya Abida, Yunimar Yunimar, Uji Deteksi Adulterasi Daging Babi (Sus scrofa domestica) pada Bakso Metode Loop-Mediated Isothermal Amplification , Indonesian Journal of Human Nutrition: Vol. 8 No. 1 (2021)
Irma Sarita Rahmawati, Soetjipto Soetjipto, Annis Catur Adi, Aulanni'am Aulanni'am, Annisa Rizky Maulidiana, Potensi Ekstrak Etanol Ubi Jalar Ungu sebagai Inhibitor Angiotensin Converting Enzyme pada Tikus Hipertensi , Indonesian Journal of Human Nutrition: Vol. 8 No. 1 (2021)